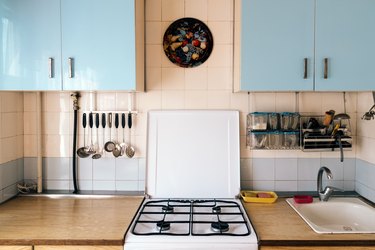 Old or damaged kitchen cabinets can be restored through painting over the existing finish or stripping them of the original paint or varnish and starting from scratch. Incorporating decorative contact paper into the renovations enhances the décor of the kitchen. Some home decorators also use contact paper on doors and to line the interior shelves of kitchen cabinets. Certain home styles work best for exterior and interior cabinet treatments.
Best Contact Paper for Cabinets
For best results, choose contact paper for cabinets and contact paper for countertops that complements the paint and kitchen style. Use the contact paper to cover some of the flat surfaces of the cabinets, such as the doors, facings or the border where the cabinet tops meet the ceiling.
Cover a few areas at a time with contact paper and observe the visual effects of the paper for a day or two before adding more. It's easy to overdo the contact paper and mar the ambiance of the room. The best type of contact paper to cover cabinet surfaces is labeled washable paper.
For best results, choose a thin contact paper with maximum flexibility to snugly adhere into the trims and flourishes commonly found on kitchen cabinet doors and drawer facings.
Best Cabinet Lining Contact Paper
To best prevent scratching cabinet shelves and protect them from damp dishes or spilled pantry items, line them with washable contact paper that is thicker than the type used for cabinet surfaces.
When choosing contact paper for cabinets, it's advisable to choose colors or patterns that harmonize with the exterior cabinet colors. The best cabinet lining contact paper has non-stick surfaces to deter the slippage of glassware and dinnerware.
If pests are a kitchen problem, the best contact paper to use is unscented, non-toxic bug repellent contact paper that keeps the cupboards free of cockroaches, ants, weevils and other common kitchen pests. Contact lining paper can be applied to painted or unfinished wood shelves or directly on top of particleboard or fiberboard.
Contact Paper Patterns vs. Solids
Contact paper is available in a wide range of patterns, from bold geometric motifs to delicate floral designs. Solid contact paper colors range from white to bright, as well as primary hues and stainless steel and copper finishes. So eye-catching is contact paper, you can use it for a wide variety of purposes.
The best contact paper choice is a color or style that matches the style of your kitchen. Take your time choosing contact paper for cabinets and countertops. Place samples around the kitchen and see how they look during various times of the day as the natural lighting shifts.
Maintenance of Contact Paper
The ideal contact paper for kitchen cabinet surfaces and lining has an adhesive backing that keeps the paper in place but can still be removed and replaced when it is worn or you want to redecorate your cabinets. For cabinets that are heavily used, the best contact paper to use is the type with extra-durable coatings that withstand repeated washing. That way the contact paper won't become damaged or overly dirty with regular use.