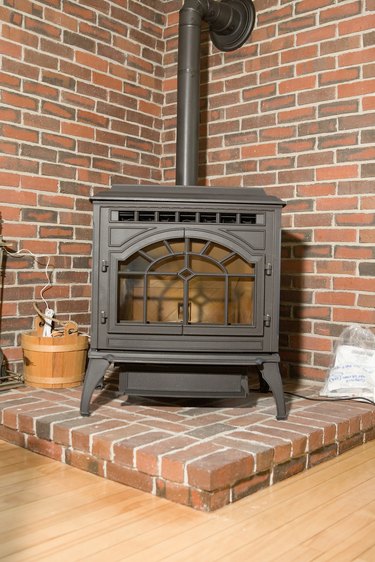 Cast iron's seemingly contradictory properties help make the ferrous metal more intriguing. While cast iron withstands compression force very well, this brittle metal can crack under excessive tension without warning. You also cannot hammer or bend cast iron into a specific shape, which limits its potential for creative applications. Cast iron's composition and manufacturing techniques determine the properties of the finished product.
Cookware Extraordinaire
Cast iron cookware has become a familiar fixture in residential and commercial kitchens. When you cook with cast iron, your skillet evenly distributes the stove's heat -- far better than aluminum or stainless steel. Also, a well-seasoned cast iron skillet has almost as much nonstick capability as a skillet coated with nonstick material. Once you finish blending your frittata ingredients, you can slide your cast iron skillet into the oven, eliminating the need for a separate baking dish. Cast iron's long useful life, along with its relatively low cost compared with other quality cookware, makes it a versatile and cost-effective choice.
Sturdy, Functional Stoves
Sturdy, durable cast iron wood stoves have long been a fixture in American homes and businesses. Cast iron's distinctive properties enable manufacturers to produce an entire stove from one mold. While this three-dimensional casting process allows for attractive stove angles and patterns, the technique also eliminates seam weld fatigue problems that plague stoves made from welded components. Cast iron wood stoves also adapt well to high temperatures and extremely fast temperature changes.
Cast Iron Piping Pluses
The advantages of cast iron pipes have made them a longstanding favorite with the construction industry. Cast iron pipes greatly dampen noise when stacked up against plastic pipes, and the iron pipes' companion gaskets decrease the entire system's vibration. Cast iron piping has developed an almost-legendary reputation for longevity, having first been used in 16th century Europe. France's famed Fountains of Versailles include cast iron piping that's been in use for more than 300 years. An even greater advantage is that non-combustible cast iron pipes more effectively deter building fires from spreading, compared to plastic pipes.
Engine Block Comeback
Vehicle manufacturers have begun to reevaluate cast iron engine blocks. While cast iron blocks were formerly a car and truck construction mainstay, companies switched to lighter aluminum blocks to reduce overall vehicle weight. However, at the 2014 Detroit Auto Show, Ford Motor Company's F-150 pickup truck featured a compacted graphite iron, or CGI, V-6 engine cylinder block. CGI has demonstrated excellent stiffness and strength, along with increased fatigue crack resistance. In fact, CGI blocks have proven their worth in turbo-diesel and NASCAR racers' engines over the years.