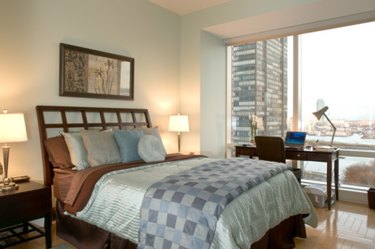 A comforter is a bed covering made of three layers: the decorative fabric, an inner layer and a bottom fabric. Stitching through all three layers holds the cover together. The inner layer is fiberfill, 2 to 4 inches thick; 4 inches is considered high-loft. A comforter sets the tone, style and mood of the bedroom. It is the focal point and ties all the elements of the decor together. Choosing the right size of comforter for your bed is important for more than aesthetics; if it is too large, the weight could distort the top and compress the filler, affecting the warmth of the comforter.
Best Size for a Comforter
The comforter should extend down the sides and foot of the bed an equal distance. If the bed has a mattress and box spring, the comforter should extend past the mattress and over the bed-skirt. The guideline for the length of the comforter is that it should end just below the mattress, or one-third of the distance from the top of the box spring to the floor, or two-thirds of that distance.
How Size Affects the Look
A long comforter -- at the two-thirds length -- suggests luxury and must also be a high-loft comforter to balance the length. Thinner comforters suggest a more modern decor and should be kept shorter, usually ending just below the mattress. A high-loft, short comforter will not drape well at the corners and will look out of proportion on a large bed. A long, thin-loft comforter will pull the eye down and make the bed appear less prominent.
Bed and Comforter Sizes
Comforter sizes vary by manufacturer. A typical king-size comforter is 106 inches wide and 92 inches long. A queen-size bed is 60 inches wide and 75 inches long. This comforter would extend past the sides 23 inches and over the foot of the bed 17 inches. The comforter would be almost to the floor on the sides of a regular queen-size mattress and box spring and 6 inches shorter at the foot of the bed. These are not pleasing proportions. The comforter must be the same length around the sides and foot of the bed to maintain proper proportions. Therefore, using a king-size comforter on a queen-size bed is not recommended.
Exception and Solution
If the bed has a full footboard, the length of the comforter at the foot of the bed could be ignored, because the foot of the bed is not visible. The comforter could be altered by removing 6 inches from each side. The adjusted width would bring the bed and comforter back into proportion. The comforter would end just below two-thirds of the distance from the top of the mattress to the floor.