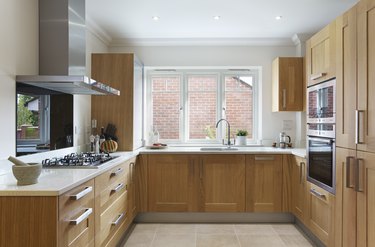 Natural wood is a great choice when renovating or building any home. It is a decor choice that many people lean towards due to its versatility and durability. One of the best things about wood products is that if you don't like the color of the wood, then you can change it with a stain or even remove the color altogether by bleaching the wood.
Any wood item in your home, from your furniture to your kitchen cabinets, can be bleached. There is no practical side to bleaching oak cabinets, but it will definitely be more aesthetically pleasing if that is the style you enjoy. Keep in mind that there are different ways to bleach wood, and if you choose the wrong bleach, it could lead to a total disaster.
Deciding What Bleach You Need
Bleached oak cabinets takes some serious thought, because you can't just throw some bleach product on the wood in hopes of achieving the look you want. If you are looking to remove a dye color from the wood, then using a chlorine-based product, such as household laundry bleach, is a great choice for homemade wood bleach and will likely get the job done.
If you are looking to remove water stains from your cabinets, then look for an oxalic acid that should remove the stains and any other eyesores found on the surface of the wood. Keep in mind that the chlorine bleach and oxalic acid will not alter the natural state of the wood, but simply remove and lighten the surface.
There is one other option for bleaching wood cabinets, but this option will alter the natural wood color by stripping it entirely. This method is best used when you purchase a home, and the wood they chose for their cabinets is not entirely the color you would have chosen. You can bleach out that color by using a 2-part wood bleach. This bleach is made up of sodium hydroxide, otherwise known as caustic soda, and hydrogen peroxide.
How to Prep Before Bleaching
Before beginning any project that involves bleach or other harsh chemicals, it is important to be properly equipped and in a well-ventilated area. Make sure to have safety goggles, gloves and old clothing before beginning your project. Bleach can be harmful when left in contact with the skin, and it can also do color damage to your clothing if not careful.
The wood you have chosen to bleach must also be prepped before applying the liquid. It needs to be thoroughly washed using a simple household cleaner or dish soap and wiped down with a towel. You may find it best to remove your cabinets doors, as well as removing any hardware found on the cabinets, such as metal knobs and hinges, to get a perfectly even finish.
Bleaching Kitchen Cabinets
If you have chosen the 2-part bleach, then you will need to follow the instructions that come in the package. Some brands require individual applications, while others require you to mix them together.
Apply the bleach with a sponge across the surface of the wood. Wipe down the wood as if you were cleaning it, making sure you do not use too much or too little bleach. Putting more bleach in some spots than others will result in spotting or streaking, which does not create a uniform look.
Apply as many coats as necessary to achieve the desired look, waiting for the wood to dry between coats. Finish the last coat by wiping down with water afterwards and sanding the surface to get a smooth finish. Seal the wood once it is completely dry in order to have a long-lasting finish.