A china cabinet is a functional piece of furniture that often gets ignored as a dust collector. With the right arrangement, though, your china cabinet can be the star of your dining room. The best part about your cabinet is that it allows you to show off the designs and patterns on your fine china or dinnerware. Remember that china cabinets aren't just for the fancy stuff. If you have a beloved set of dishes that are colorful or match your dining room décor, let these be part of your display.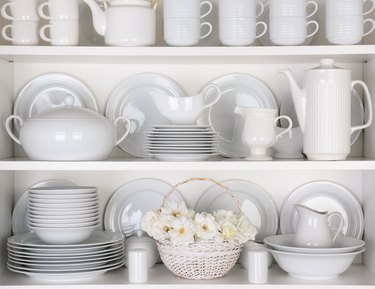 Heaviest and Tallest Items First
Platters, covered dishes, trays, teapots and large decorative pieces that weigh the most go in first. The ones that weigh the most should go on the bottom shelf. These dominate pieces should be stable and centered. Play with the height differences and make sure that the items are evenly dispersed. If you're unsure, start with groups of three, and arrange items on the shelf in order from left to right: tall piece, heaviest piece, tall piece. Or, copy that same pattern on alternating shelves with two tall pieces on the top shelf, the heaviest piece centered on the shelf directly below it and two tall pieces on the shelf below that.
Glassware
Newer cabinets have interior lights that shine on the contents of the cabinet and add a soft glow to the room. If your cabinet has an interior light, the top shelf will be used for glassware and crystals. Your heaviest piece of glassware, like a pitcher, decorative vase or etched tray, should go in the center. Line your other glassware, like wine glasses, on either side of the heavy centered items. The two tallest items will flank the centerpiece. The light reflects off the glass, adding to the shine.
Complete Place Settings
This display option is great if you don't plan to use your dishes on a daily basis. These special occasion dishes sit upright on display with the largest dinner plate in the back. Some cabinets will have a groove cut into the shelf so that plates can be displayed standing or leaning. Older cabinets may not, so you'll have to buy plate holders to display your china. Don't lean plates without a holder.
After the dinner plate, place the matching salad or smaller plate in front of the dinner plate. Use a plate holder for this as well, or purchase a plate holder that allows for more than one plate. Saucers, dessert bowls or any rounded matching items sit flat in front of the plates. Teacups sit upright on the saucers.
Stacked Place Settings
If space is tight or if you plan to use your dishes on a daily basis, stacking your plates from large to small in front of a displayed plate can save room and offer easy access. Lean a few of your favorite or patterned dishes so that they're standing against the back. This serves as the backdrop to the design stacked in front of it. If you have more than one set on display, group each set on a different shelf. Place saucer and bowl or teacup last. Remember to leave room and not allow the shelf to become too crowded. A cluttered shelf prohibits easy access to daily-use plates and bowls.
Beverage Shelf
Another handy option is to make a beverage shelf showing off your teapots and coffee cups. This follows the same rule of centering the heaviest item or placing two heavy items on opposite sides of the shelf. Teacups and coffee cups should sit in their matching saucers. Sugar bowls, creamer pitchers, glassware and other accessories can go on this shelf.
Extras
Your cabinet shouldn't be jam-packed. There should be space between your items so they can all be seen and are aesthetically pleasing. If you have room to incorporate things other than dishes, use them thoughtfully so that they work with your décor instead of dominating it. Put photos in frames that match your plate color scheme, arrange salt and pepper shakers near serving dishes and place decorative smaller items in front.
---
Nat Howard is a writer, editor, journalist, and jack-of-all-trades, covering topics from home improvement and design to healthcare and career advice.