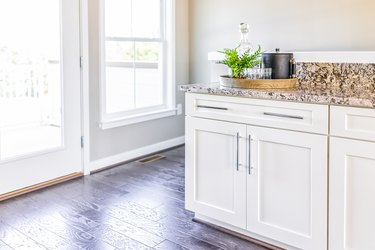 If you've always dreamed of building your own bar but weren't quite sure where to start, you might be pleased to learn that you can make a fabulous bar using kitchen cabinets. By making use of old cabinets rather than throwing them away, you can save money and be more environmentally friendly. Plus, it's a bit easier to build a ready-to-assemble home bar using existing cabinets than starting completely from scratch.
Plan Your Bar
If you do decide to build a bar out of kitchen cabinets, take stock of the cabinets you have on hand. What is the total length, width, and height of the cabinets? It is not advised that you stack cabinets to build your bar, as doing so could be dangerous. So, the total height of each cabinet should be the height of your bar.
A standard bar height is 42 inches. Kitchen cabinets are sold in several standard heights, including 30, 36, and 42 inches. If your cabinets happen to be 42 inches tall, they are perfectly suited for a traditional bar. If they are shorter, you could consider having a shorter bar or custom-building bar height cabinets if you have your heart set on making a bar out of kitchen cabinets.
Decide how long you'd like your bar to be. This measurement is a bit more flexible, and it depends on how much space you have available, as well as how many people you hope to accommodate. Typically, commercial bars leave between 22 and 30 inches per space at the bar. Multiple the total number of places you'd like by this space and see if you have enough cabinets to build a bar of this size.
Ready to Assemble Home Bar
Map out where you'd like your bar to be placed. It may be helpful to use pencil, chalk or tape to show where the cabinets will go before you begin to put them down. If you'd like your bar to be movable, simply set the cabinets within the area you've outlined. If, however, you plan to attach it to the floor, you can bolt the cabinets down using brackets as you go.
To attach cabinets to one another, you will need to open the cabinet doors. Once you have access to the interior of the cabinet, use a flashlight to illuminate the space. Using deck screws or other long screws, attach the cabinets to one another. You will need to be cautious when opening the cabinets if the screws are even a bit too long, as they will stick out into the cabinet opening.
If you would like a uniform top on your bar, you can use a sheet of plywood slightly larger than the cabinets you have assembled. Every 7 inches, use deck screws to attach the wood to the cabinet tops. The overhang on a bar is usually about 8 inches, so keep this in mind when choosing a size for the plywood bar top. Adding a counter over top of the plywood with construction-grade adhesive is advised.
Finishing the Bar
If you'd like to finish or decorate your bar so it has a uniform look, you can add a stain or paint to the counter and cabinets. To make the space look finished, hang a mirror on the wall behind your bar. Wipe out the cabinets and add your beer, wine and liquor. If you have enough cabinet space, you can even store glassware and other bar keeping tools inside the bar room cabinets.