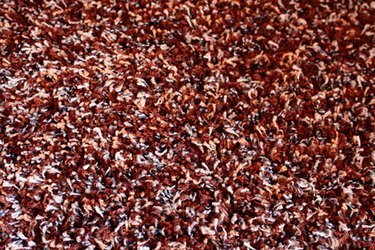 Although rugs come in many shapes and sizes, you may occasionally need to trim a rug to make it fit a certain spot in your home. With the correct instruments and exact measurements, it is possible to trim an area rug and leave it looking good enough to use in your space. Use the same techniques to cut old wall-to-wall carpet down to area-rug size.
Step 1
Measure the area where you will be placing the rug with your measuring tape. When cutting a rug to size it is vital you are sure of the dimensions you need. Make a note of the dimensions.
Step 2
turn the rug upside down. The tough rubber material at the bottom of the rug should now be facing upwards. Also, be sure to place the rug on a hardy surface, or a surface you don't mind getting scratched--as that is a possibility when you begin cutting.
Step 3
Make markings on the rug that will allow you to cut the rug to the predetermined size using a pencil and ruler. Once you have made the markings double-check they are accurate, as these are the markings that will dictate the size of your rug.
Step 4
Score the dimensions with a carpeting knife. Use the ruler and the markings you just made to score an outline of the rugs new size with a carpeting knife. If the rug is thin enough, this process may actually succeed in cutting the rug, but it will certainly score out an area for you to cut with shears.
Step 5
Cut the scored area with carpet shears. Carpet shears are specialized tools and will have no trouble cutting easily and cleanly through the material of the rug.
Step 6
Paint around the edge of your new area of rug with glue. Simply use a small paint brush and transparent glue to thinly paint the edges, as this will solidify the fibers which are now at the edge of the rug and reduce the danger of fraying.