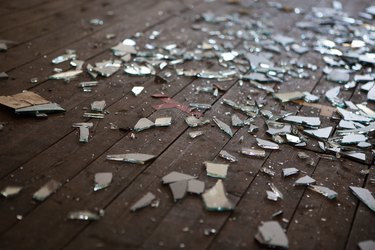 Recycle colored glass, and design a crushed glass countertop. Glass of any color can be used with epoxy to create unusual and visually appealing countertops for your kitchen, bar or bathroom. Whether you choose to create a focal point in the kitchen with a crushed glass island or to dress up a renovated bathroom, a broken glass epoxy countertop or DIY terrazzo countertop is an option to consider.
DIY Recycled Glass Countertops
Colored glass can be used to add a punch of color to the countertops. Whether you choose to collect glass of a certain color or to use whatever you can get your hands on, the glass can bring the countertop to life. One idea is to cut the bottoms off a collection of wine bottles, using a glass cutter.
Create a pattern with the glass rounds, and crush the remaining bottles to fill out the design. You can mix green brown, blue and clear glass for a multicolored countertop. While glass-crushing machines can be purchased, a less expensive option is a glass-crusher mortar and pestle, which you can find at stained glass supply stores.
Epoxy and Polyurethane Countertops
The finished look of the crushed glass countertop varies depending on the epoxy you choose. Clear epoxy is a common choice for novelty countertops displaying items such as pennies, bottle caps and wine bottle corks.
Keep in mind that clear epoxy allows the surface below the countertop to be visible between any gaps between the glass pieces, which means that you should paint the surface before you begin with the epoxy. Otherwise, you can choose white epoxy to contrast with the glass. Coat the finished counters with a marine-grade polyurethane for a shiny and durable finish.
Assembly of Countertops
Create a dam around the designated countertop area, using aluminum flashing tape, which you can find at the hardware store in the roofing department. Glue the glass in place with construction adhesive, or add a thin layer of epoxy to the counter and layer the glass onto it. After mixing the epoxy according to the manufacturers directions, pour a thin, even coat over the glass.
Smooth it out over the entire surface, taking care to remove bubbles as they appear. If many bubbles appear, use a torch to pop the bubbles. Allow the counter to dry between coats. You can clean the edges with a razor blade or sand larger areas for a clean finish. Add polyurethane after the epoxy has cured.
Other Things to Consider
Epoxy is sensitive to UV rays and tends to discolor. Direct sunlight can affect the countertops and leave them cloudy or yellowish. To prevent this, apply a UV blocker sealant to the finished and cured countertops. Though the epoxy feels dry after a few hours, it needs a full week to cure. Epoxy tops are also sensitive to heat., so you should use coasters for hot drinks and never place a hot pot on the countertop.
Also, consider your safety. Always wear thick leather gloves when working with chemicals or pieces of glass. Remind children not to play near your workspace. In addition, be sure pets are nowhere near you while you work.
Always use chemicals in a well-ventilated area to protect yourself. This can be achieved by opening a door or window. Using fans is also an effective way to blow chemicals out of the area.