Things You'll Need
Degreasing cleaner

Sandpaper

Primer

Paint

Paintbrush

Foam roller

Polyurethane
Tip
Wait three to four days to allow the paint to cure before putting the hardware back on the furniture.
Painted MDF may scratch easily. Touch up any scratches with a small artist's brush.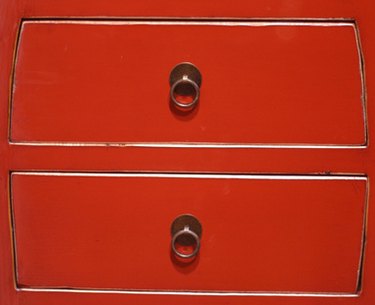 Medium-density fiberboard, or MDF, is made from small pieces of wood that have been fused together to form solid sheets. These sheets are then used to construct furniture, doors and trim molding. Refinishing MDF furniture cannot be done in the traditional sense because you cannot sand away the original finish and apply a coat of stain. MDF can be painted with good results.
Step 1
Clean the furniture with degreasing cleaner to completely remove any grime or residue from the surface. Remove any door or drawer pulls from the furniture and set aside.
Step 2
Sand the furniture to create texture. Roughing up the surface of the furniture will create grooves and allow the primer to sink into the surface and adhere to the MDF. Do not sand so much that you remove the top layer. Once you have reached the particle board, the MDF will start to crumble. Wipe away sanding dust with a damp rag.
Step 3
Prime the surface of the furniture with a bonding primer. Apply the primer with a paintbrush in all corners and hard-to-reach areas. Follow with a smooth foam roller to paint the larger surfaces. Allow the primer to dry.
Step 4
Paint the furniture with interior latex or acrylic paint. Use a paintbrush for all areas that can't be reached with a roller. Follow with a smooth foam roller to eliminate brush strokes and smooth out visible seams. Apply paint with a roller for all larger surfaces. A smooth foam roller applies paint in a thin, even coat. Apply two to three coats of paint, allowing each to dry before applying the next.
Step 5
Apply polyurethane topcoat to the furniture with a good-quality, clean paintbrush. Small bubbles may appear in the surface of the topcoat as you're are applying it but will disappear after a few minutes. Apply one to two coats of polyurethane.
---
Lisa East Hunter is a consultant and freelance writer in Phoenix. Her background in marketing and technology led her to explore all avenues of writing. She is currently dividing her time between freelance writing and her consulting business. Hunter has a Bachelor of Science in management information systems and marketing.