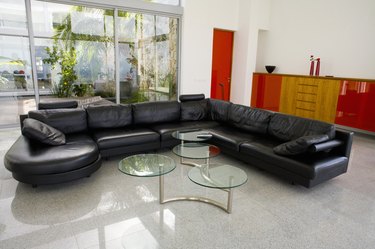 Redecorating is fun, until you get to your furniture. That sinking feeling when you look at that ratty sectional makes all your previous efforts -- replacing accessories and adding color to the walls -- feel all for naught. Sofas are expensive, either to replace or reupholster. If the sectional still has good bones and just needs a freshening up of the fabric, consider slipcovers, an affordable and effortless way to update furniture.
Advantages
Slipcovers aren't permanent which allows you to freshen your décor seasonally or whenever the mood strikes. In winter use heavier, textured fabrics; use light and airy slipcovers in spring, casual ones in summer and those with rich tones in fall. Many slipcovers are machine-washable so if they become soiled you just throw them in the washer and dryer. There is no need to worry when the dog jumps on the sectional or the kids refuse to keep their feet on the floor.
Disadvantages
Keep in mind that the slipcover will cover any decorative details on the sectional, such as wood trim. Slipcovers also require frequent adjusting if your sectional gets a lot of use. You may find yourself frequently tucking and pulling the fabric after it's used. If you have an odd or over-sized sectional, finding a ready-made slipcover to fit may be a challenge. Custom made slipcovers may be your only option. Thankfully, many tailors specialize in making slipcovers.
Fabrics
In the past, slipcovers came in only a narrow range of sizes, typically for the smaller, more traditional sofa. Today, slipcovers for sectionals crowd right alongside the older styles in department stores and at online retailers. Your choice of fabrics is much broader today, as well, with faux leather, damask, denim, wool and more. Then, there are the different colors and thousands of patterns to choose from. If your sofa requires custom-made slipcovers and you sew, not only will your choice of fabrics be wider, but you can probably find a slipcover patterns at your local fabric store.
Considerations
Follow the manufacturer's measuring instructions carefully. As a general rule, you should measure the length of the sofa from arm to arm. While many slipcovers for sectionals are sold pre-shrunk, some are not. Check with the manufacturer before throwing the slipcovers in the dryer as some shrinkage may occur. Putting the covers back on the sectional while still slightly damp helps them retain their fit.
Easier than Slipcovers
While ready-made slipcovers are easy, there's another, even easier way to cover your sectional. Use bed sheets. Patterns and colors are almost limitless and they can easily be tucked around the cushions. To hold the sheet securely over the front of the sectional, so it doesn't hang onto the floor, turn the sofa on its back and use a staple gun to secure the sheet to the underside.