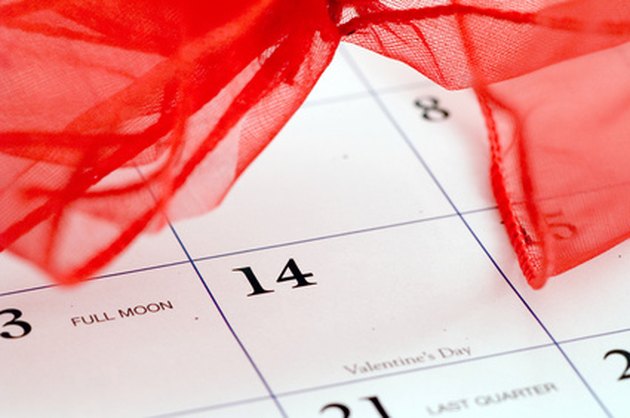 Calendars allow those who use them to keep track of the passing days and months, as well as important appointments and holidays. Many types of calendar are available from which to choose, including boxed or desk, easel, planner and wall. Wall calendars often flip open to reveal the current month, along with a picture or photo on the top page. These calendars are designed to be hung up on a wall, bulletin board or refrigerator. You can hang up your new calendar using just a few tools.
Step 1
Open the calendar so that it shows the current month.
Step 2
Press the opened calendar against the surface where you wish to hang it. This may be almost any flat surface, such as a wall or cork bulletin board.
Step 3
Align the tack with the small hole on the top of the calendar. While holding the calendar steady with one hand, press the tack fully into the flat surface.
If you are using a nail, hold the calendar and nail down with one hand, then hammer the nail most of the way into the surface, leaving half an inch or so protruding from the wall.
If you are mounting the calendar on a magnetic surface, such as a refrigerator, select two or more strong magnets. Place the magnets on the top and bottom of the calendar to secure it.
---
Melissa King began writing in 2001. She spent three years writing for her local newspaper, "The Colt," writing editorials, news stories, product reviews and entertainment pieces. She is also the owner and operator of Howbert Freelance Writing. King holds an Associate of Arts in communications from Tarrant County College.