If you have gorgeous, varnished Pergo floors, then you may be happy with this economical flooring solution that gives your home the look and feel of hardwoods. However, if your Pergo floors are old and unsightly, consider painting over them with a coat or two of paint made for flooring. For example, add an airy, beachy feel to your home by painting your Pergo floors white. Keep in mind that because Pergo flooring is laminate flooring, it requires some preparation.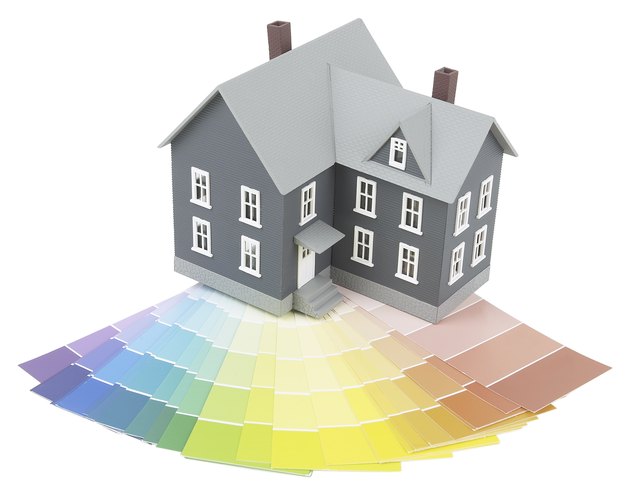 Step 1
Sand the Pergo laminate wood floors tile by tile with 80-, 100- or 120-grit sandpaper. By sanding the floor tiles, you will help the new paint adhere to the flooring. If your Pergo floor is large, then you may want to rent an electric sander from your local home construction supply store. Sand the floor until it is smooth.
Step 2
Put on work gloves. Mix the trisodium phosphate with water, according to the TSP's mixing instructions. TSP removes gloss from a floor. First, mix it with water. TSP is designed to remove both gloss and grease from surfaces. Wash the surface of the floor with the TSP mixture and a mop. Allow the floor to dry completely.
Step 3
Spread a drop cloth on the corner of the room. You will move the drop cloth around as you paint the floor.
Step 4
Tape off the area just above the baseboards with painter's tape. This protects the baseboards from the floor paint.
Step 5
Pop open the can of the floor primer by inserting a screwdriver around the top of the can in several different places and pushing down like a lever to pry open the can.
Step 6
Mix the floor primer with a paint stick and pour it into a paint tray.
Step 7
Roll a high-density roller brush with an extender handle into the primer. Keep in mind that your brush should be coated with primer but not dripping with it.
Step 8
Roll the primer on the floor, working from side to side. Start at the back of the room away from the door leading out of the room so that by the time you finish the room you can exit near the doorway. Allow the primer to dry before applying floor top coat. Apply two or three top coats. Allow the paint to cure for about a week.