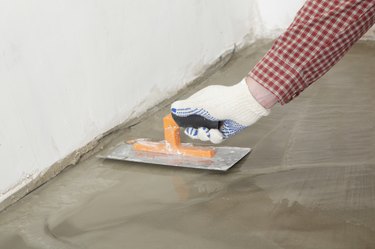 Many homeowners are opting for exposed concrete floors in their homes, because they can be attractive and are easy to keep clean. Before you can add a colored stain followed by a coating of epoxy, urethane or wax to make a concrete floor shine, you must prepare the floor's surface. A professional floor buffer or sander equipped with a sanding disc can remove any existing paint, stains, discoloration or small imperfections from the floor's surface.
Equipment and Supply Needs
Rent a professional floor buffer or sander. You'll need coarse-grit, fine-grit and superfine-grit sandpaper discs that fit beneath the buffing pad on the floor buffer, depending on how much sanding the job requires. Purchase tape and plastic sheets to cover cabinetry, fixtures and walls. Make certain you have goggles and multiple dust masks, as concrete dust is bad on the respiratory system.
Prep Work
Before you begin sanding, remove all furniture from the room. Sweep or vacuum the floor to remove loose debris. If you're inside, set up plastic sheeting to protect walls or cabinetry from dust generated by the sander. You'll place sanding discs beneath the buffing pad, one at a time. Follow the instructions for attaching the disc to your machines; attachment will depend upon the type of machine you use. Some stay in place on their own.
The Right Stuff
Your sandpaper choice depends on how much sanding must be done. Choose coarse-grit sandpaper, in the 40- to 60-grit range, for basic sanding and stripping. For smooth finishes and removing minor imperfections, use 80- to 120-grit sandpaper. For the smoothest finish use superfine sandpaper, 200- to 400-grit or higher. If you use a wet-dry sandpaper, you can wet the area before you work to keep dust down. Do not let the slurry dry on the concrete because it will harden in place. If you only have a small area to sand, you can also use a palm sander, orbital sander or belt sander. Rough imperfections may require the use of a special diamond disc and a concrete floor grinder.
Make It Smooth
Start in one corner with the sander or buffer, working in 4-foot-square sections. Work methodically across the length and width of the room. Clean the area of dust with a broom and dustpan after finishing. After the first pass, go over the floor with a fine or superfine sandpaper disc to finish the surface. Examine the concrete floor to ensure you have removed any paints, stains or other coatings. Repeat sanding as necessary until the sanding is complete. Mop the area and let it dry thoroughly before applying your stains or finish coats.