Replacing your carpet can be a costly endeavor. If your carpet is starting to look stained and discolored but you're not ready to completely change it out, consider dyeing your carpet for a refreshed look. Professional carpet dye is a great, cost-effective option that provides your carpet with a like-new appearance.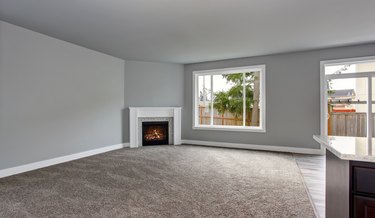 What to Use
There are many types of professional-grade carpet dye on the market. Americolor carpet dyes, for example, provide over 70 colors to choose from. With powdered dye, you can customize your color even more by adjusting the amount of water you use to mix it. You can purchase carpet dye from home centers, carpet stores or online. Just remember when choosing your color that carpet dye can't lighten the color of your carpet. Select a darker shade for maximum benefit.
Prepping Your Carpet
It's important to note that only wool or nylon carpeting can be dyed successfully. Once you're ready to begin dyeing your carpet, you'll want to give it a deep cleaning first. Remove all the furniture, then vacuum your carpet thoroughly. You may want to empty your vacuum cleaner before you begin to ensure maximum pick up.
Next, you'll want to clean your carpet. For nylon carpet, use a commercial steam cleaner. For wool carpet, you'll need to wash the carpet by hand using shampoo and sponges or a scrub brush. You may consider hiring a professional to assist you in this part of the process.
Protecting Your Space and Yourself
To protect your room from errant spraying, tape newspaper to your walls with masking tape. While you don't have to, you may also consider removing your baseboards. This ensures your carpet will be dyed all the way to the edges, and putting the baseboards back might cover any color bleeding that might occur.
Your carpet dye will produce a lot of fumes. You'll want to open nearby doors and windows to assure proper ventilation throughout the carpet-cleaning process. If at any time you start to get dizzy or lightheaded, it means you're not getting enough airflow. It's also a good idea to wear a paper breathing mask, work gloves and safety goggles throughout the dyeing process.
Applying Your Dye
Once your carpet is completely dry, you can begin the dyeing process. Spray can-based dyes are ready-to-use. If your carpet dye needs to be mixed with water, follow the instructions on your packaging to get the proper ratios. You may also want to use hot water. You can add your dye mixture to a spray bottle or pump sprayer.
First, do a test spray on an area of the room that will be covered by furniture later. That way, you'll know if you need to adjust the color. When you're ready to proceed, be sure to spray a small area at a time, starting in the corner opposite the door. Be sure to try and spray a similar amount of dye on each area to ensure an even distribution of color.
After spraying a small area, you'll want to use a hard-bristled scrub brush to massage the dye into the carpet with circular motions. Repeat for each small area until you have finished the room. Let your dye dry at least 24 hours before replacing furniture.