Painting metal either for a craft project or to spruce up outdoor siding or furniture takes some specific techniques and products in order to get the finish for which you are hoping. Antiquing metal is a relatively easy endeavor that can be accomplished in an afternoon depending on the size of the piece. A distressed metal paint effect gives fixtures, furniture, wall art, outdoor garden tubs and pails charm, color and texture.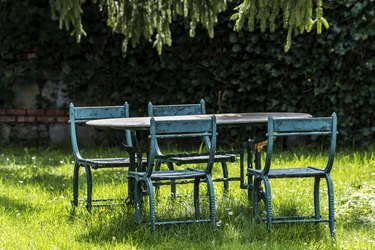 Tools for Painting Metal
With the right type of paint and application, you can create faux-rust art pieces, spruce up faded outdoor metal benches or tables or create a shabby-chic look on a plain metal bed frame. Distressed metal pieces add ambiance and charm to your space.
Oil-based paints are more durable than latex paints for metal projects, according to experts. However, both will work. If you are going to rough up the paint with sandpaper or a Dremel tool, either paint will work.
Benefits of Spray Paint
A go-to for crafters when looking to distress metal fixtures or pieces with detail is cans of spray paint. There are many reasons that spray paint works well on metal to make it look distressed.
Spray paint is ideal for making metal look old because:
The coverage doesn't have to be complete or even on all areas of the metal piece.


The spray can be controlled to be heavier in one area while creating a light dusting of color on another area to depict the aging process.


Spray paint can easily maneuver around coils and kinks of large metal pieces, such as bed frames or chandeliers, and cover these pieces in a short amount of time.


The nooks and crannies of complex metal designs are easily covered from a distance without having to take the piece apart or twist yourself into uncomfortable positions to get proper coverage.


Coverage is quick and easy to control with spray paint.
Types of Spray Paint
There are many types of spray paint for achieving the look of worn or distressed metal.
Plain white or a primary color can be roughed up with fine-grit sandpaper to give it a weathered look.


Antique spray paint can give the appearance of a timely patina in just one coat.


Metal spray paint that is evenly sprayed on the shiny surface of a metal piece will give it an immediate look of age and charm.
Faux-Rust Paint
A patina of rust makes a piece look authentic and rustic. Faux rust on metal gives the warmth and texture of actual rust without the messy flaking or damaging oxidation that rust represents.
For a faux-finish rust effect, you can use a mix of black and brown craft paint. Use a sponge brush to mottle the black and brown in light layers until you achieve the level of rust color for which you are looking. While the top layer is still wet, you can sprinkle a few fine ingredients over the top that will mimic rust. These include:
Cinnamon
Ground nutmeg
Fine, brown craft sand
Lightly sprinkle the fine particles over your painted metal piece. Use a heat tool to bind the particles to the metal or spray a sealer onto the piece.
Tips for Painting Metal Outdoors
The temperature on the surface of the metal piece that you are painting can be significantly higher than the forecasted temperature.
Therefore, try not to paint in direct sun so the paint can dry without the blazing rays interrupting its curing process. If painting a large piece, move around the fixed item as the sun moves across the sky if you can in order to avoid painting in direct sunlight.
When using spray paint, be careful that you don't overspray onto something you prefer not be painted.