Things You'll Need
Molding

Tape measure

Saw

Liquid nails

Construction glue

Sandpaper

Caulk gun

Exacto blade
Tip
Do not install exterior moldings with construction adhesive alone. Liquid Nails is not recommended for plastic molding or 1/8-inch thick medium density fiberboard (MDF) paneling.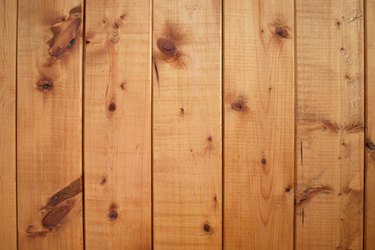 Molding added to the home provides a finished look. Ideally, molding is fastened to the wall or cabinet with finishing nails for a tight and professional installation. There may be times when nailing is prohibitive, in which case you can install molding without nails using construction grade adhesive.
Step 1
Choose the molding you wish to install. Lightweight wood is best for construction glue. Prime and paint, if necessary, prior to cutting the molding.
Step 2
Clean and dry all surfaces prior to installing the molding. Make sure there is no loose paint or drywall.
Step 3
Measure the area of the wall or cabinet where you will install the molding, and lay the molding flat on the bottom of the miter saw, face side up. Cut the molding with a miter saw to the appropriate angle. Lightly sand the rough edges with sandpaper.
Step 4
Dry-fit the cut molding to see how it will fit. Place it against the wall, and butt the other cut pieces up to it to ensure that the angles and fit works.
Step 5
Insert the Liquid Nails cartridge into the caulking gun, and cut off 1/4 inch of the plastic tip with a blade at a 45-degree angle. Puncture the inner seal of the canister.
Step 6
Lay the molding down on a clean work area, face down, and apply a 1/4 inch bead of Liquid Nails in a zigzag pattern to the length of the molding. Let it set up for a minute or so.
Step 7
Place the molding with adhesive up to the wall or area you are installing the molding to. Firmly press into place and hold tightly against the wall, and lift off for one to three minutes before pressing back into place. Work with the molding and adhesive for up to 10 minutes before it dries.