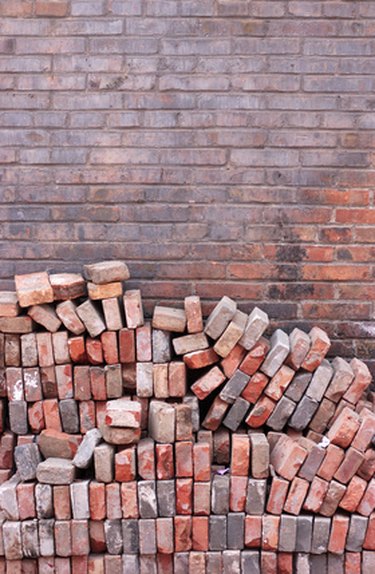 It's easy to go green with brick. Bricks come in plenty of styles and colors, and with your imagination and a few fun tips, they can be reused in a variety of ways in your home or garden. Their weight and ability to withstand extreme temperatures make bricks extremely versatile.
Book End, Door Stop or Paperweight
Because of their weight, bricks make a perfect choice for use as a book end, door stop or large paperweight. If you like the look of the bricks, you can put them to use right away. If they have seen better days, or you want a designer look, cover the bricks in fabric, wallpaper or adhesive-backed paper. Decorate with stickers, ribbons or markers. This can be an easy craft for kids to teach about recycling and reusing products.
Garden Border
Use bricks outside as an edging for your garden or yard. The bricks help keep dirt and mulch in the garden and weeds and grass out. Before you begin, measure to be certain you have enough bricks to finish the job. To keep them in place, be sure to set the bottom edge slightly into the ground. You can get even more creative by angling the bricks into the ground.
Shelves
Make custom-designed shelving for use indoors or outdoors. Simply stack the bricks in two or four piles as high as you would like, then place a piece of shelving, wood or glass on the brick stacks. Test to make sure the bricks form a stable enough base for the amount of weight you will need to support. If a shelf is going to be rather long, consider putting a stack of bricks in the middle for support.
Barbecue Base
If you're looking for an inexpensive way to barbecue, consider making your own grill from old bricks. Pile bricks in four stacks of equal height and lay an old oven rack over the bricks. Pile your charcoal or wood under the grill rack and you're ready to barbecue. Clear the area around your impromptu grill of any grass, leaves or twigs that might pose a fire risk.
Desktop or Counter Organizer
If your brick has holes in it, you can use it as an organizer to keep things straight on your desk or counter top. Attach a piece of felt or cork to the bottom of the brick to make a base that won't scratch your surface area. Then you can sort pencils, crayons, scissors or kitchen utensils in the openings.
Walkways or Patio
Brick walkways are sturdy and offer a nice change of pace from the usual concrete sidewalk. Use whole bricks or pieces to form an entrance walkway, or fashion a path to or through a garden. If you have a lot of bricks to work with, consider using them as a base for a patio or barbecue pit.