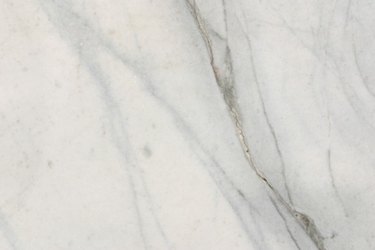 Many homes have surfaces, such as floors and countertops, that are made from marble. Most commonly, these surfaces are cultured marble, which is made from fiberglass resin and crushed limestone and can be molded into different shapes. Cultured marble is coated with a substance called gel coat, which is typically used to seal boats. Gel coat is easily tinted, and you can use gel coat to create a new finish and change the color of a marble or cultured marble surface. While using gel coat is not difficult, achieving a perfectly smooth surface requires some skill.
Step 1
Clean the marble thoroughly and allow it to dry. Grease and dust make it difficult for the gel coat to adhere.
Step 2
Pour the gel coat into a container. A disposable container is best. Be sure that you know the volume of the gel coat in the container so that you can add the right amount of tint and catalyst. Because gel coat sets up quickly, mix only an amount that you can easily spread in a few minutes, and mix small batches as you progress with your work.
Step 3
Add tint to the gel coat. Do not use more tint than is recommended by the manufacturer, as this can interfere with the hardening of the gel coat. Stir with the paint stirrer.
Step 4
Add catalyst, using the amount recommended by the manufacturer. Stir the mixture thoroughly for about a minute.
Step 5
Spread the gel coat across the surface using a brush or roller.
Step 6
Clean your tools with acetone.
Step 7
Wait for the gel coat to dry. It may feel hard after 20 or 30 minutes, but wait a full day before using the gel-coated item.
Step 8
Sand the surface using 400-grit sandpaper, then 600-grit sandpaper. Buff the surface with a soft cloth and rubbing compound. Polish with polishing compound.