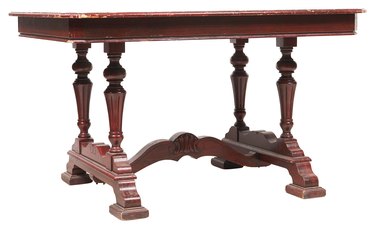 Dark mahogany furniture adds elegance to a room, but when paired with the wrong colors it can disappear into the background or become overwhelming. Incorporating mahogany furniture into a room means you will have to consider all the colors in the space. The walls and flooring are just the start. Look at the window treatments, decorative items and other furniture in the room when choosing colors to best combine with the natural tones of the mahogany furniture.
Greens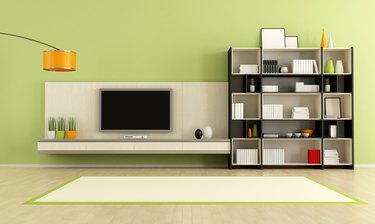 Green and red are decorative complementary colors. Mahogany's natural color has deep red tones, which green complements. Pierre Finklestein in "Designer Faux Finishing: Ideas and Inspiration for Sophisticated Surfaces" recommends combining mahogany furniture with green shades such as olive green for a darker room overall or sage green for a lighter option. The green color balances out the richness of the red in the furniture.
Blond Woods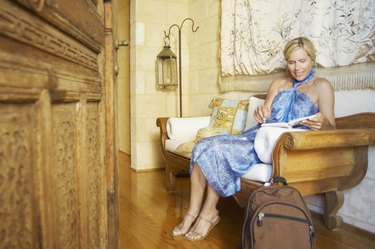 To create a sense of balance in a room with mahogany furniture, use lighter wooden furnishings or flooring. Caroline Atkins in "Country Living Shortcuts to Decorating Country Style" suggests combining dark wood furniture, such as mahogany, with lighter, golden woods such as pine or oak. The contrasting wood colors balance each other out. Use pale ash or beech with mahogany to accent the mahogany furniture.
Reds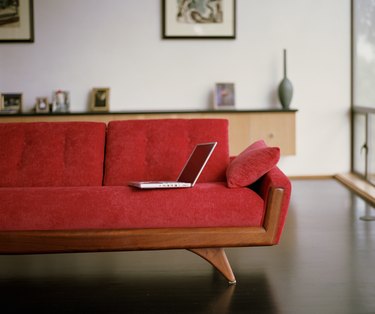 Enhance the red tones in mahogany furniture by adding red accents throughout the room. Red is an invigorating color, but painting all four walls red in a room with mahogany furniture could feel too overwhelming. Pierre Finklestein in "Designer Faux Finishing: Ideas and Inspiration for Sophisticated Surfaces" uses red shades as accent colors in a room with mahogany furniture to avoid the red color suffocating those in the room.
Blues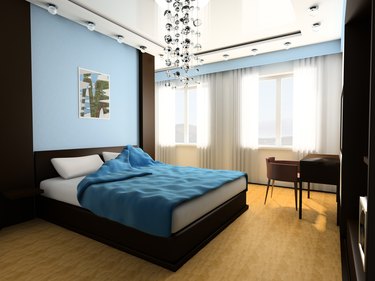 Blue shades can pair with mahogany furniture, but choose bolder blues, as suggested in "Blooming Rooms: Decorating with Flowers and Floral Motifs" by A. Bronwyn Llewellyn. The author suggests using pale slate blue with lighter woods, but choosing darker blue colors to go with mahogany. Combining a dark shade of blue with mahogany makes a room feel cozier, but this combination should be used in a bright room with a lot of light to keep the room from looking too dark or small.
---
Athena Hessong began her freelance writing career in 2004. She draws upon experiences and knowledge gained from teaching all high-school subjects for seven years. Hessong earned a Bachelor in Arts in history from the University of Houston.