Aqua is a blue-green color, more intense than turquoise, a color frequently confused with aqua. It is also called cyan, a color midway between blue and green on the color wheel. Cyan is considered a primary color in photography and color printing and a secondary light color. You can wave your paintbrush (or a light wand) and make an aqua color by combining a light shade of blue and green or a lot of blue with a little yellow.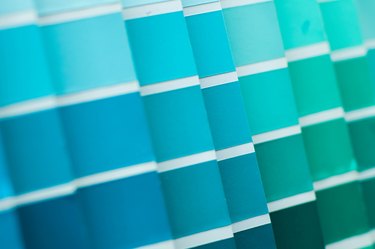 Defining the True Aqua Color
Aqua is in the eye of the beholder. The name can be applied to shades of blue-green that range from an aquamarine color to a cerulean hue to turquoise to Tiffany and even Maya blue. Aqua and teal are also often similar if not the same. In general, aqua is the blue of tropical water; aqua is Latin for "sea," and marina means "water."
But the color has a shimmery quality that makes it turquoise in some light, blue-green in others. Turquoise tends toward the blue spectrum and is a tint of blue-green, which means it has white added to lighten it. Aqua may contain an imperceptible hint of more yellow, casting it slightly greener -- or not. An argument about purity of hue would likely end in a stand-off.
A Painter's Palette
An artist might make aqua from a base of titanium white with a bit of true blue, like brilliant blue, and the most minute amount of cadmium yellow. Too much color added to white creates a deep, heavy shade. Too much yellow, and the color becomes a depressing bluish yellow-green. So aqua on canvas is as fragile as a ripple in a lagoon or a robin's egg.
You Mix, You Paint
The easiest way to paint with aqua is to select from one of the countless shades of pre-mixed blue-green in your local paint store that falls roughly under the category "aqua." Alternatively, DIY blend your own custom color with a white base, adding blue in until the paint is light blue, and then combining minute amounts of yellow until the blue takes on a slight greenish tinge.
You can also mix blue-green paint with blue paint to get a pleasing shade, and lighten it with white to reach your desired intensity. Just remember that duplicating your custom aqua precisely will be next to impossible should you run out of paint before you run out of wall, so make more than you think you'll need.
Serenity, Healing, Refreshing
Aqua, like turquoise, is associated with emotional healing and protection. It is a balancing and sometimes playful color that might evoke your last Caribbean vacation or help you shed the day's tensions and slip into a dreamless sleep.
Pantone Color Institute selected aquamarine as a lead color for 2015 spring-summer fashions, assigning it the attributes of an "airy blue with a dreamy feel, cool, calming and ethereal." As bedding, carpeting, drapes or upholstery, aqua reduces stress, is open and expansive, and adds a refreshing note to neutrals and a calming note to bright colors.
---
Benna Crawford has been a journalist and New York-based writer since 1997. Her work has appeared in USA Today, the San Francisco Chronicle, The New York Times, and in professional journals and trade publications. Crawford has a degree in theater, is a certified Prana Yoga instructor, and writes about fitness, performing and decorative arts, culture, sports, business and education .