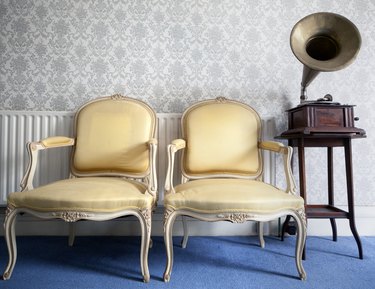 Antique chairs have a distinctive appearance, even when compared to exact replicas, especially when you look at the results of long use and age on the antique chair. Wood shrinks with time, loosening joints, and use often wears hand carvings and embellishments smooth. To learn how to identify antique chair styles, start by determining the design period to which the chair belongs or comparing the chair to style charts in books or online.
Antique Period Styles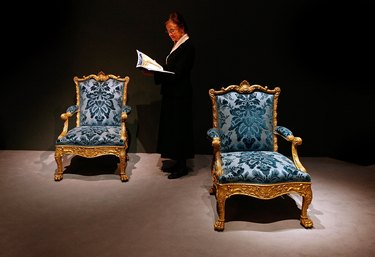 Find the period to which the antique chair belongs by evaluating its shape and comparing it to a chart or guide in a book or online. Each antique style has specific identifying features, often named after the reigning monarch of the time, or for the designer who created the style, such as Thomas Chippendale, Thomas Sheraton or George Hepplewhite. Some styles are based on monarchial reigns, such as Victorian, Queen Anne, Louis XIV, XV and XVI, Georgian -- from the four reigning monarchs from the House of Hanover -- and the late-Neoclassical Empire style, based on the furnishings created during Napoleonic rule. In America, Windsor chairs, named for the 18th-century town in England that first created the style, supported the backside of the country's forefathers during the signing of the Declaration of Independence.
Antique Chair Wood Types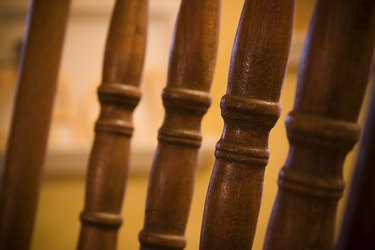 Examine antique chairs to determine the woods used to build the chair, a key style indicator. Many designers used both domestic and imported woods for their chairs, some of which include African mahogany, an exotic, imported wood. Antique chairs were often made from rosewood, elm, bird's-eye maple, oak, walnut, hickory, ash and cherry. For example, Windsor chairs during the period from 1730 to 1830 often included more than one wood, such as maple combined with ash or hickory.
Designer Signature Features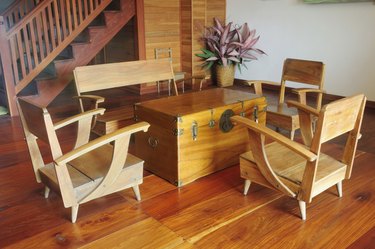 Signature features used by the designer often characterize antique chairs. For example, chairs designed by Thomas Sheraton, a London-based designer and cabinetmaker, followed neoclassical lines, featuring slim, straight legs with a rounded shape. Proportions in his design were important to Sheraton, who created refined, graceful and elegant chairs. Another feature of Sheraton chairs is the use of wood veneers on chair backs.
Leg Shapes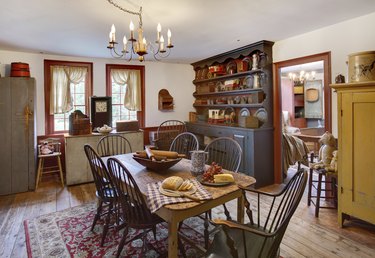 A major telling feature of antique chairs starts from the floor and goes up; leg shapes help define the style and period to which the chair belongs. Chippendale and Queen Anne chairs typically have an S-curved cabriole leg with a knee and in-curved ankle. "Bandy-legged" refers to the cabriole leg or curved leg found on Colonial furniture. Other leg types include the saber, spiral and spider, tapered or straight leg. Designers often favored a specific leg type, such as the Marlborough leg, common on Chippendale furniture.
Feet Types
Compared to modern furnishings, antique chairs could have one of many foot designs. Common to Sheraton and Hepplewhite styles, the arrow foot has a pointed foot separated from the leg by a turned oval or ring. Claw and ball feet are often found at the end of a cabriole leg on Chippendale chairs, while tapered Federal legs and feet are found on Queen Anne-style chairs. On American antique chairs, the ball and claw foot often consisted of an eagle's claw holding the ball. Other chair feet include the Drake or trifid foot -- a three-toed flared foot.