They look lovely when they're overflowing with herbs or planted with rambling roses. But just like your plants, terra cotta pots need a little care and attention to keep them from perishing outdoors. The clay is porous, which means it will absorb moisture from the soil and sustain damage when kept outdoors. Terra cotta pots are also prone to cracking in extreme temperatures, especially in cold winters. And that would leave your beautiful flowers without a home. There are a few different ways to protect them.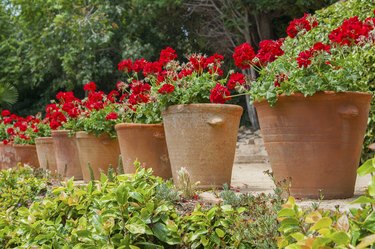 Seal of Approval
Before using a terra cotta pot, especially if keeping it outdoors, coat with a protective sealant. You can use a stone sealant such as those used for marble or granite floors. This will keep the water out and help protect the pot from the elements. First, clean the inside and outside with a damp cloth, and allow it to dry for a couple of hours. Use a foam paintbrush to apply a coat of exterior varnish inside the pot. Allow it to dry, then repeat on the outside. Once that's dry, add a second coat.
True Colors
If you want to jazz up plain pots with some bright colors, paint it and allow it to dry before applying the sealant. The paint won't bond well with the protective layer. Acrylic paints work well on terra cotta. You could even go wild with pretty pictures or patterns like candy stripes.
Glaze Over
Cheaper pots can be both upgraded and protected with a glaze. Spray inside and out with a waterproof sealer designed for brick and concrete. Allow to dry for 24 hours, then add a coat of all-surface primer. Once that's dry, apply paint. You can use acrylic, chalk paint or leftover indoor paint. Leave for 24 hours before applying several coats of a high-gloss sealant or lacquer.
Invite Them In
Because they absorb moisture, terra cotta pots crack easily with extreme temperature changes as the clay expands and contracts. Waterproofing with sealant helps, but to be extra careful it may be worth bringing them indoors if a big freeze is coming. If they contain delicate plants that frost can also damage, you'll be a savior twice over.
Raise Them Up
If bringing them indoors isn't practical, or the plant prefers to be outside, raise the pots on bricks or move to a concrete surface. Otherwise, the pots may stick to wet ground when it freezes and will break when you try to move them. Likewise, if the pots are too big to store inside, you can tuck them underneath the eaves of your house, store them in a shed or cover them with a tarp to keep the worst of the weather at bay. Empty out any soil first and keep each pot separate (not stacked) and upside down.