The markings on the underside of antique dishes can help you to identify more than who made the piece. Some dishes have a stamp telling you the name of the manufacturer and also a date mark. These marks give you the approximate time line. Other marks that have an historical reference are often found in or around the company mark. American pottery before the 19th century was made to be practical. It was simple in design and more larger and heavier than the European imported pottery of the time.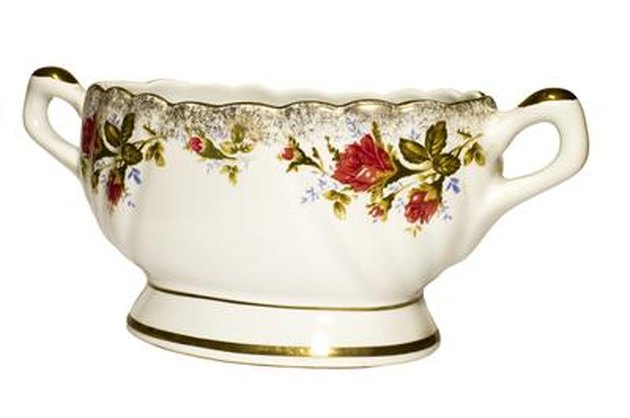 Step 1
Turn the piece upside down to locate the marks. Look for the company name. Some important American makers of pottery are Franciscan, Gorham, Haviland, Knowles, Taylor & Knowles and Lenox. Manufacturers in America were more lax with their earlier markings compared to European makers. Many older antique pieces with marks are imports, with well known names like Doulton, Wedgewood, Derby, Worcester, Meissen, Crown Derby and Minton. Researching the name of the company and the time period it operated, will give you a general timeline and more knowledge of your piece.
Step 2
Look for the name of a country on the underside. This will tell you if it is imported. The McKinley Tariff Act of America came into effect in 1891 and required all imports to have the name of the country of origin printed on the the piece. This would place any imported dish after 1891. The use of the word American marked on pottery became more popular after 1920. The words bone china on the underside tells you it was manufactured in the 20th century.
Step 3
In the 19th century, East Liverpool, Ohio and Trenton, New Jersey became the two major pottery areas in America. It can be confusing as many of these companies marked pottery with a British coat of arms featuring a lion, unicorn and shield with a crown on top. Other British-looking stamps may also be found on dishes made in America. The well-known company, Knowles, Taylor & Knowles of Ohio, shows a coat of arms mark on its early pottery with the letters K. T. & K.
Step 4
Many American companies changed the look and sometimes color of their marks several times. After you find the location and the time period the company operated, look for the company mark that appears on your dish for a more accurate date. Imported dishes from many European companies have registered codes stamped on them that will give you a more precise date. The kite mark is a registered mark with codes that appeared on British pottery from 1842 to 1883. The system changed to serial numbers in 1884.