They are excellent at getting clothes and the linens as clean as possible, but they can be a pain to operate. Front load washers often sit on pedestal drawers to make them easier to operate. Sometimes they need to be removed to be repaired or because their presence makes doing the laundry a chore. Whether you plan to remove them for repair, cleaning or to get rid of them completely, there are a few steps to removing the pedestals for Whirlpool Duet.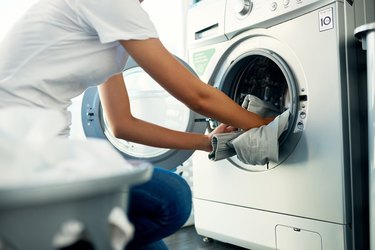 Purpose of the Pedestal Drawer
Many front loaders have an inconvenient design, with users having to bend over to pull out heavy loads of wet clothes or bumping their head upon the dryer lid opening when reaching for that errant sock in the back of the tub. Pedestals are meant to assist with the design difficulties, but they, too, can become cumbersome or make the machines more challenging to operate. With all the time spent moving laundry through the process of cleaning, the machines should be at a comfortable height. A Whirlpool washer drawer is intended to offer the user more space to store all the potions, products and cleaning tools that go with getting laundry to look its best. The machine should be at its best height and operation and in good working order so that you can move the laundry quickly and easily from the aromatic hamper and through the washing and drying process to hang crisp and clean in the closet or folded nicely in dresser drawers.
Prep Work
Get the area ready before you hunker down for the hard work that could arise if you aren't prepared when moving large appliances, such as the washing machine and dryer. Take all of the items out of the drawers if you have them. Clear out the first 2 feet in front of the machine to give you plenty of space to work. Check for possible obstructions in and around the drawer. Gather a socket wrench for hex nuts and towels to protect flooring if needed.
Whirlpool Duet Pedestal Drawer Removal
If the optional pedestal attachments just aren't working for you, taking them off isn't too complicated. The Whirlpool dryer stand and washer drawer can both be removed using the same process. Open the pedestal drawer to its full position and remove the hex nut, which can be found on the top of each drawer arm. The drawer should pull out and clear of the pedestal. You can now make any repairs or conduct any cleaning or annual maintenance on the drawers. The laundry appliances may seem heavy and cumbersome sitting on top of the pedestal drawers, but manipulating the hulking machines to remove the bottom pedestals can be accomplished with a few tools. Consult the manual for complete removal of the washer and dryer drawers.