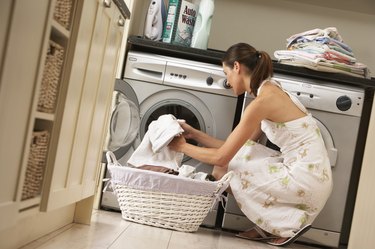 Maytag has a long history of manufacturing washing machines, so you'd expect that all of the kinks would have been worked out by now. Maytag washers, however, like other brands of washers, must be regularly maintained and cleaned. But even diligent maintenance won't always prevent your Maytag washer from not properly spinning clothes dry, which is a frequent complaint owners have with the machine. You can troubleshoot a Maytag washer that won't spin dry on your own and perhaps even repair it yourself.
Step 1
Measure your drainpipe to make sure it is no taller than 96 inches in height and no shorter than 30 inches; otherwise, it won't pump enough water from the washer, or the water may flow back to the washer.
Step 2
Look at the dial selection to make sure you have selected the proper spin speed for the material you are washing. Choose the highest spin speed for that particular material. If you choose the "no spin" or "low spin" option, your Maytag washer might not remove all of the water from your clothes.
Step 3
Check if you have chosen the appropriate wash cycle for the type of material you are washing. The Maytag washing machine drains quite a bit more slowly on the "Delicate" and "Hand Wash" cycles.
Step 4
Check for excessive soap suds accumulating in the washing machine. Maytag recommends you use only high-efficiency detergent in Maytag washers. Other detergents can cause excessive soap suds, which could cause the washing machine to operate at a slower spin speed than selected, resulting in sopping wet clothes.
Step 5
Add more clothing items to the washing load. If you wash only one large item, like a coat or blanket, the washer might become unbalanced and react by lowering the spin speed, causing the machine to not drain as it should during the spin cycle.
Step 6
Examine your drain hose for clogs or kinks. Straighten the hose out to allow water to flow through. Eliminate blockage in the drainpipe or utility sink.