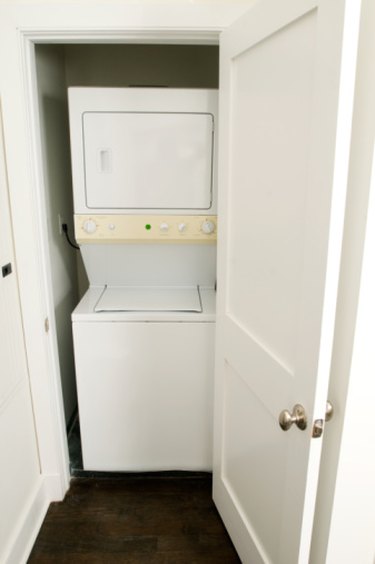 Frigidaire produces several different kinds of products for the home, including air conditioners, dehumidifiers, ovens, microwaves, cooktops, ventilation systems, dishwashers, and washers and dryers. While the company manufactures separate washers and dryers for home use, stackable washer and dryer units are available for purchase, as well, and may be useful for small spaces such as apartments or tight laundry closets. The stackable unit should function well with little difficulty; however, if problems do occur, troubleshooting the issue may help identify the problem and a possible solution.
Step 1
Ensure the stackable washer and dryer is properly connected to a working power supply, if the unit will not turn on. Replace the fuse or circuit breaker, if necessary.
Step 2
Stop the washer or dryer and open the lid if there is a rattling or clanking noise during use. Coins, pens or other hard objects may fall out of pockets and will make noise in the unit. Remove all hard objects before using the washer or dryer.
Step 3
Stop the washer if a squealing sound or hot rubber odor is detected. Reduce the amount of items in the washer and restart the wash cycle.
Step 4
Adjust the leveling legs on the unit, if the unit vibrates or moves during use. Ensure all four legs are touching the ground and are level.
Step 5
Open the dryer and remove the lint screen if the dryer is not functioning as expected. Clean the lint screen and return to the dryer. This process should be followed prior to every use.