"Made in America" evokes images of pickup trucks, barbeques and Mom baking an apple pie in her new U.S.-made oven. While many appliances are imports, a large number are still manufactured within U.S. borders. The Federal Trade Commission requires that any appliance labeled "Made in America" must be assembled and its major parts made in the U.S. Thus, you can check the label to assure yourself that an appliance was made in the good old U.S. of A.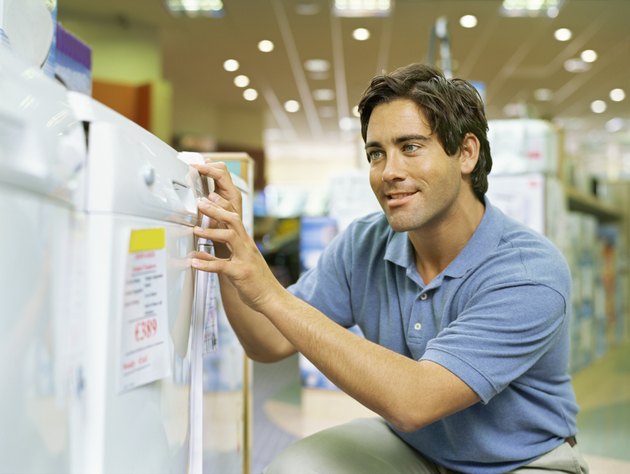 credit:
George Doyle/Stockbyte/Getty Images
Hard-Working Washers and Dryers
Designed for daily use in a busy household, washers and dryers take an incredible amount of punishment while cleaning and drying a variety of fabrics, from delicate baby clothes to bedding to stinky sports jerseys. A number of well-known brands are still manufactured on U.S. soil, including Frigidaire, GE and Whirlpool. Other familiar washer and dryer brands manufactured by Whirlpool Corp. include Amana and Maytag.
Keep It Cool With Refrigerators
The refrigerator becomes the focal point of many a kitchen, whether you select a basic refrigerator/freezer combination, a high-end commercial refrigerator or a premium wine cooler. In addition to Frigidaire and GE products, brands manufactured in the U.S. include Dacor, Perlick, Sub-Zero, U-Line and Whirlpool-owned Jenn-Aire.
Heat It Up With Cooktops, Ovens and Ranges
From cooktops to ovens to ranges, built-in or free-standing styles, a good stove makes it easy to cook everything from a simple roast to a full holiday meal. While Dacor, Frigidaire, GE and Whirlpool also manufacture cooktops, ovens and ranges, a high-end kitchen might incorporate Thermadore, Viking or Wolf products. On the other hand, a kitchen in a vintage home might include a full set of retro-styled appliances assembled by Big Chill in Boulder, Colorado.
Cleaning Up With Dishwashers
Most of the major appliance manufacturers, such as Frigidaire, GE, Whirlpool and several of the Whirlpool-owned brands, make coordinated sets for kitchens that include the refrigerator, stove and dishwasher. Germany-based Bosch also makes dishwashers, while New Zealand's Fisher & Paykel makes dishwasher drawers, all in U.S.-based factories.
Small Appliances Make the Grade
Small appliances also wave the made-in-the-USA flag. These include Blendtec blenders, Kitchen-Aide's famous stand mixer, Frigidaire's toasters and coffee makers, and Wahl Home Products' grooming products for people and pets, available online and through major retailers. Because not all small appliances are manufactured in the U.S., even if the company is U.S.-based, look for the "Made in America" emblem to ensure that the particular appliance you're considering is actually made in the United States.