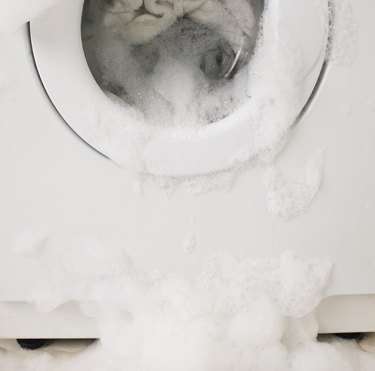 Whirlpool washing machines use error codes to let people know what has gone wrong when the machine isn't working properly. The F2 error code on the Whirlpool washer is indicated as F02, and means that the washer is taking too long to drain properly. This means there is come kind of problem with the washer's draining system. Fixing this problem is moderately easy, depending on what the cause of the problem is.
Step 1
Press the pause or cancel button on the Whirlpool washing machine to clear the F02 error code from the display, and try using it again. The error code is displayed when the washer takes more than eight minutes to drain, but may just be a glitch.
Step 2
Find the drain hose at the back of the machine, which carries the drain water from the washer to the wall. If this hose is kinked or heavy objects are placed on top of it, the washer will take too long to drain and the F02 error code will be displayed. Ensure the drain house is unobstructed.
Step 3
Unscrew the back panel of the washing machine and remove the panel to find the pump. The pump is a large white object that is connected to the drain hose. Ensure that the pump has power connected to it and that the connections aren't loose.
Step 4
Check the drain pump filter and ensure there are no objects that are clogging the pump and preventing the washing machine from draining quickly.
Step 5
Replace the pump with a new one if the above steps do not solve the F02 error code problem.
---
Nicole Papagiorgio has been writing professionally since 2005. She is a blogger and freelance writer based in Canada and has been published in the "National Post," "Ottawa Citizen" and "Vancouver Sun." Papagiorgio has an associate degree in journalism from Algonquin College in Ontario.