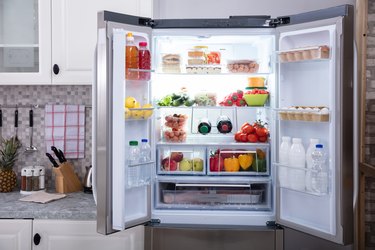 In some of the old strongman competitions, there was a refrigerator race where the competitors carried a refrigerator a certain distance on their backs. While some people may be tempted to try this, the majority will use dollies, handcarts and straps with two or three people to move their refrigerator. Whichever way you choose to do it, before moving your refrigerator it's a good idea to know what the refrigerator weight is.
Refrigerator Weight by Type
There are many factors that determine refrigerator weight, including the age of the refrigerator, the model and the type of fridge. A common rule of thumb is to calculate slightly more than 10 pounds per cubic foot, meaning a refrigerator with a size of 10 cubic feet will weigh a little over 100 pounds. Larger refrigerators, those over 20 cubic feet, are less likely to follow this rule.
For example, one of the most popular Whirlpool refrigerator models, a 25-cubic-foot French door unit, weighs over 330 pounds, while a Whirlpool top freezer refrigerator with a size of 18 cubic feet weighs just over 170 pounds. The average weight of a new refrigerator is between 200 and 300 pounds, although compact units can be as low as 75 pounds while some of the larger refrigerators can exceed 400 pounds.
Older Vs. Newer Refrigerators
Along with the many different models and sizes of refrigerators, age can affect refrigerator weight. No, refrigerators do not get heavier as they get older. But if you have a refrigerator made in the 1980s or even earlier, it is likely to weigh more than a similar, more modern unit. This is largely due to improvements in technology, with today's refrigerator manufacturing materials being more lightweight than what was used for most of the 20th century.
While a 40-year-old Whirlpool top freezer refrigerator will likely weigh more than a newer top freezer fridge, other Whirlpool refrigerator models may outweigh older units because of all the accessories that weren't available on older refrigerators. French door refrigerators, for example, weren't even manufactured for consumers until the 1990s. Other newer options that can influence the weight of your refrigerator include special shelving designs, temperature-controlled drawers and smart refrigerator features.
Moving a Refrigerator
According to an article on moving instructions from GE Appliances, a refrigerator should be kept upright while moving to avoid damaging the seal system and loose items. But because not all refrigerators are the same, there are different moving instructions to consider for each type, regardless of weight. If there is no choice but to lay a unit down while moving, top freezer models should lay on the side without hinges, allowing the door to stay closed.
Side by side units should lay on the freezer side. French door units must always stay upright, with a slight allowance to be tipped and maneuvered into place. If you use a dolly to move your refrigerator, place one of the sides, not the front or back, against the dolly to prevent damage. And if the refrigerator was placed on its side while moving, do not plug the unit in until it has been standing upright for an equal amount of time.