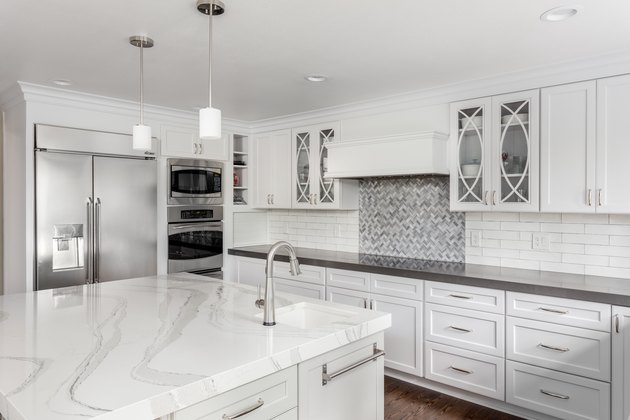 It's great that you want to know how to level your Kenmore refrigerator because it's critical to proper function and energy consumption. Surprisingly, there's a lot that's affected by how your fridge sits on the floor, so it's worth getting down on your knees to tinker with your Kenmore refrigerator leveling feet.
No Refrigerator Leveling Kit Needed
The only kit you'll require for this job is a level and a 3/8-inch hex head screwdriver. While not essential, it's a smart idea to have a friend help you with this job. They can keep an eye on the level and tell you if your efforts are paying off without you getting up and down a dozen times to check it yourself.
The longer your level, the more accurate your reading will be. Also, set it on top of the refrigerator and not on one of the lower shelves for the best accuracy. You shouldn't need anything like refrigerator leveling shims, but that's an option should you discover the built-in level adjustment screws aren't working as they should.
Notes on "Leveling"
Your fridge absolutely must be level side to side at the front and back of the unit. Not doing so will result in coolant failing to circulate correctly and may cause the door to sit askew and not seal properly, possibly compromising your food safety and wasting energy.
But when it comes to being level front to back, that's a bit different. It must be ever so slightly lower at the back — only by about ¼ to ½ inch. The reason for this is so the door will be easier to close.
Too low at the back and the door will close with a thud, whereas being dead level will make it heavier to close. Also, the slight dip at the back means gravity will give you an assist if the door is almost closed and may help it shut.
How to Get Started
Set the level on top of the fridge and check it periodically throughout adjusting to ensure you're hitting level. See where you're at from front to back and side to side and choose which side is best level with the back — it may be that you only have to adjust the front left or front right foot.
Pop the toe kick or grille off the bottom of the fridge — it usually just needs to be firmly pulled out to unclip it. You may see a rounded bracket that's hiding the foot on either side of the fridge front, and you'll need a blunt tool (like a pencil) to poke into the notch and pry it off to reveal the adjustment screw heads.
Adjusting the Feet
You should see adjustment screws on the housing with the adjustable feet. The "A" screws will adjust only the front foot and "B" does the back foot. Turning the screw clockwise will raise the refrigerator, while turning it counterclockwise will lower it.
Once you've found the sweet spot and everything is level side to side and there's a slight dip backward, it's time to put the bracket cover back over the foot screws by snapping it into place. Replace the toe grille by simply snapping the bottom and then top back into place.
---
Steffani Cameron is the daughter of a realtor and interior decorator mother and a home contractor father. Steffani is a professional writer with over five years' experience writing about the home for BuildDirect and Bob Vila. Raised with a mad love for decorating, Steffani gave up her Art Deco apartment to travel and work remotely for five years. She's in love with experiencing traditional decor around the world, including stays in Thai teak plantations on the Mekong River and cave homes in Turkey.
View Work