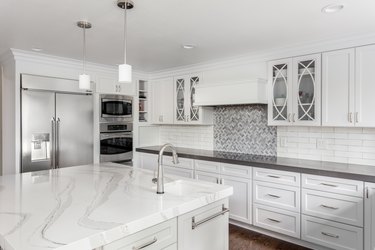 For whatever reason, you may need to reset your GE fridge temperature control, and you may be unsure how to get there. Lots of things can cause the temperature in your fridge to seem to change — perhaps your home has been too chilly in the winter or the summer heat has thrown it off. Ambient temperatures certainly affect the fridge, and while technology is smart these days, there's a lot to be said for the taking the wheel and not leaving things up to a microchip to dictate. Plus, knowing where "normal" is can help you decide how to adjust the temperature too.
Old-School Fridge Temperature Reset Methods
Everyone has called a service tech only to be asked, "Have you tried turning it off and turning back on again?" Of course, that's the easy way of resetting your temperature — in theory. Unplug your fridge, give it a 10-minute break from all that hard work of staying cool, then plug it back in.
This won't reset temperatures for fridges with a dial, though, and some smart fridges have backup batteries to remember their settings before power was denied to them. So, unfortunately, this isn't a fool-proof or even a reliable way to get your fridge temps reset.
Fridge Temperature Control: Which Is Coldest?
The nice thing about GE is their models are consistent in operation. There are three different sorts of temperature control panels for their fridges, according to GE. These include the older two-control method with one dial for the fridge, one for the freezer; a single control for both; and the fancy new electronic models. If the control isn't digital and on the front of the door, then it's found at the back of the fresh food crisper, at the top of the crisper or on the dispenser panel.
Two-Control dial models: The default settings would be 5 and C or 5 and 5. The coldest setting is E or 9, and 0 on the 0-to-9 dial is actually for "off."
Single-Control models: These are 0 for "off" and 9 for coldest, with the default setting at 5.
Electronic controls: The fridge can range between 34 and 44 degrees Fahrenheit, with 37 degrees F being factory default. However, many food products should be kept under 40 degrees F for safety. As for the freezer, it can be adjusted between -6 and 6 degrees F, with 0 degrees F being its default.
Side-by-Side and Monogram Fridges
On side-by-side GE fridges made after 1995 and on Monogram models, you'll find temperatures via a digital display on the freezer door. Here, you can toggle the temperatures — the left side of the panel is for the freezer and the right is for the fridge. The default temperature for the freezer is 0 degrees F, while the fridge's default is 37 degrees F.
The display will shut off during regular operation, but if you want to know what the temperature is set at, hit any of the warmer/colder buttons just once. This will turn the display back on and show what the current settings are. Now you can toggle up or down for warmer or cooler as you think is needed in either the fridge or the freezer. But, remember, fridges must be between 32 and 40 degrees F for safe food consumption.
Some Final Tips
Don't forget that it can take up to 24 hours for any temperature change to fully register, so be patient and give things a day before you adjust temperatures again.
If you think your fridge is warmer than the temperature settings suggest, you can buy a standalone thermometer to check. You'll know if the fridge needs some maintenance, but you can also adjust the temperature accordingly with the thermometer's measure.