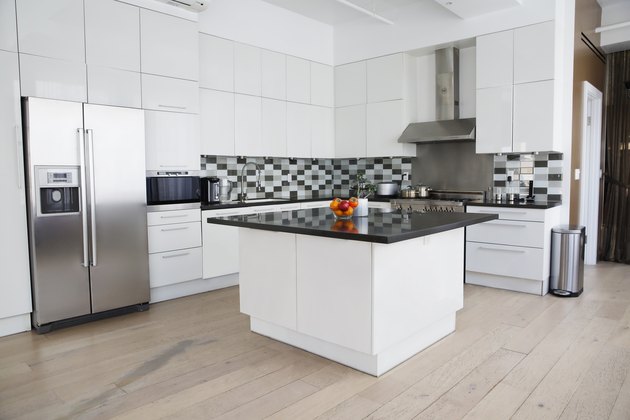 GE refrigerators are known for their quality and reliability. If you purchase an appliance from this brand, you are likely to enjoy a long period of usable life. However, things can go wrong with any appliance, regardless of the manufacturer. Luckily, it is fairly easy to troubleshoot your GE refrigerator and determine how best to repair it.
GE Refrigerator/Freezer Troubleshooting Guide
If you need a GE Profile French door refrigerator troubleshooting guide or have another model of GE refrigerator that isn't working right, the first thing to do is identify the source of the problem. A quick look through your owner's manual is also an excellent place to start.
Will your refrigerator turn on? If it isn't running or cooling at all, there may be a short in the cord or a problem with your outlet. Plug another appliance into your current outlet, and plug the refrigerator in to another outlet. This should help you to determine if your issue is electrical.
Next, check the settings of your refrigerator. Is the appliance currently engaged in a defrost cycle or another stagnant mode? Sometimes, refrigerators seem as if they are not operating, when in fact they have reached their set temperature and do not need to kick back on until the temperature begins to rise. GE refrigerators typically run through a cycle like this every half hour.
Issues with Ice and Water Dispensers
Looking for a GE Profile refrigerator troubleshooting guide because your ice or water dispensers are not operating correctly?
First, be sure the supply and drain tubes are properly connected. It's extremely dangerous if these hoses are not connected, as they can cause flooding if water continues to be supplied to the appliance. If all connections look good and water or ice is not being made, then make sure the water is turned on at the supply pipe.
If ice isn't being made as it should, check that the freezer compartment is cold. If the freezer is undergoing a defrost cycle, it may not be cool enough to warrant the production of ice.
Are your ice cubes not falling out of the ice maker? There may be a backup due to stuck ice cubes. Open the compartment and shake out any cubes that have become lodged. That should resolve the issue.
Problems with Lights and Gaskets
If the light in your refrigerator is not turning on, it's possible there is a short to the light fixture. However, it's more likely that the bulb has burned out. You will need to purchase a replacement appliance bulb. You can order these directly from GE. Consult your owner's manual for more details.
If the refrigerator does not seem cold enough, the doors aren't closing properly or if the beeping "door open" alert is sounding, you should take a look at the gaskets along the edges of the refrigerator door. You'll need to be sure that these are tight, completely attached and not pulling or tearing. Over time, gaskets can become damaged, but without a proper seal around the edge of the door, cooling will not occur as it should and your appliance won't be as energy efficient as it could be.
If you experience any issues that require more advanced repairs, you should reach out to the manufacturer for assistance. They can help you identifying a certified repair technician who is an expert at dealing specifically with GE refrigerators to ensure the best possible repair experience.
---
Danielle Smyth is a writer and content marketer from upstate New York. She holds a Master of Science in Publishing from Pace University. She owns her own content marketing agency, Wordsmyth Creative Content Marketing (www.wordsmythcontent.com), and she enjoys writing home and DIY articles and blogs for clients in a variety of related industries. She also runs her own lifestyle blog, Sweet Frivolity (www.sweetfrivolity.com).
View Work