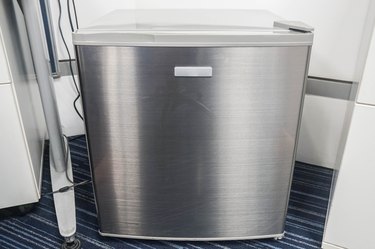 Mini fridges are popular space-saving options that fit the tiniest dorm rooms or serve as great beer fridges for man caves and rec rooms. But it's common for people to panic that their mini fridge won't get cold despite being plugged in. In a fast food world and with information available at the speed of light, it's jarring to have to wait for anything, but odds are your mini fridge just needs a little time.
How Long Does Cooling Take?
Some fridges that are small and powerful enough may be effectively cool within two hours of powering up, but many won't be cool until four hours into working. Most fridges, whatever their size, will likely take 24 hours to reach full cooling capacity, but that depends on whether the fridge is set up properly.
Mini Fridge Won't Get Cold
Make sure your mini fridge is plugged in and, more importantly, that the outlet works. Remember, some outlets are wired to a light switch and won't turn on if the switch is flicked off. Another important factor is air flow; a mini fridge crammed into a cupboard or backed against the wall will struggle to get the air flow required for proper cooling.
But here's something you may not know — fridges must always be upright, even if being transported. The reason for this is that if the fridge is laid down on its side, even briefly, then oil will flow from the compressor into the cooling lines, and this makes it hard for the fridge to cool down, according to P.C. Richard & Son. If your fridge was laid on its side, then it can take several days to reach optimal temperature.
Be aware that even changing the temperature settings on the fridge can take several hours or a whole day to take effect. If you've changed the temperature and are frustrated that it's not yet cold, then give it a full day before you change the temperature again.
Some Fridge Tips
Mini fridges vary between 1.7 cubic feet to around 5.5 cubic feet. Whether you have a Galanz mini fridge, a Danby or a GE, there are several tips to keep in mind.
Never put a mini fridge on carpet — this a fire hazard and will impede function. Instead, consider placing your fridge on a vinyl mat or a mini fridge stand.
Always ensure the fridge is level. The compressor needs level footing to work properly and being lopsided can also prevent the door from fully sealing, further hindering cooling efforts. Most mini fridges have footings that can be adjusted to make the fridge level. Some may require a screwdriver to accomplish this.
Keep the condenser coils at the back dust-free and clean. Also, ensure they are a minimum of three inches out from the wall for both fire safety and effectiveness.
So, next time you're hauling your mini fridge to a pal's house for the big game, it's better to drop it off a day or two before and stock it a few hours early so every beverage you crack open is as cold as it can be.