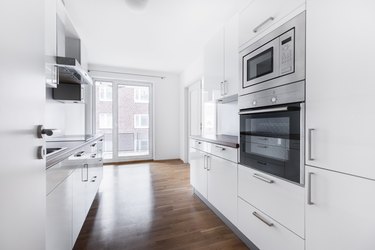 Built-in refrigerator removal can seem like a daunting task, but with the right tools, safety precautions and patience, the process can be safe and done relatively easy without breaking your back or the surrounding cabinetry.
Benefits of a Built-In Fridge
If you have a built-in fridge on the fritz, you may consider ripping the whole thing out and sliding in a replacement. Hold that thought. While built-ins aren't as easy to slide in and out of their nook as their free-standing counterparts, they do provide a benefit for kitchens.
Built-in refrigerators are a high-quality appliance and popular décor choice for the kitchen. They can increase the value of your home and provide a sleek, high-end look. The appliance is flush with the surrounding cabinets for a streamlined look that enhances the appeal of the kitchen.
Smooth and stylish, a built-in refrigerator can also free up counter space with a little imagination. Forgo the traditional upright and try a sleek built-in fridge that can be tucked into a cutout.
Safety Precautions for Fridge Removal
A refrigerator is an extremely heavy appliance that's typically top-heavy. A built-in fridge can topple over if not moved with care. Generally, it's recommended that you don't move the appliance on your own but rather with another person who doesn't have any health or back issues.
Safewise recommends that the coils be cleaned and the plug neatly wrapped before moving the fridge. Tape the doors closed so they don't swing open at an inopportune moment. Keep the fridge upright so that liquids don't find a way into sensitive motor parts.
Built-in Refrigerator Removal
Replacing a built-in refrigerator with counter-depth cabinets requires a little reconnaissance before you begin pulling and tugging at the hulking appliance. A built-in fridge is surrounded by a customized cabinet opening. Every home is different, so this cabinet opening needs some care to ensure that it doesn't get damaged as you remove the built-in, according to AJ Madison.
Turn off the water supply to the fridge at the valve and twist off the tubing connection with a wrench. Put a piece of cardboard or thin plank of plywood in front of the feet. Remove any brackets that keep the fridge attached to the custom cabinetry surrounding the appliance.
With a qualified person on each side of the bottom of the fridge, carefully lift the fridge and slide the cardboard or plywood beneath the appliance and set it down. This should allow you to shimmy the fridge forward to locate the electrical outlet and unplug the appliance. Slide an appliance dolly under the front feet of the refrigerator and secure straps around the fridge before moving it.
Considerations for a New Fridge
Before purchasing a new built-in fridge, find out the specs for your model, cabinet cutout size and locate the electrical and water hookups so you know how long cords and lines need to be to safely secure in place. This makes it easier to slide a new refrigerator into the customized space. If you're unsure about sliding the built-in fridge in or out of this specialized space in the kitchen, hire a carpenter or installer to complete the job quickly and efficiently.
---
Kimberley McGee is an award-winning journalist with 20+ years of experience writing for a variety of clients, including The New York Times, Las Vegas Review-Journal Home section and other national publications. As a professional writer she has researched, interviewed sources and written about home improvement, interior design and related business trends. She earned a B.A. in Journalism from the University of Nevada, Las Vegas. Her full bio and clips can be viewed at www.vegaswriter.com.