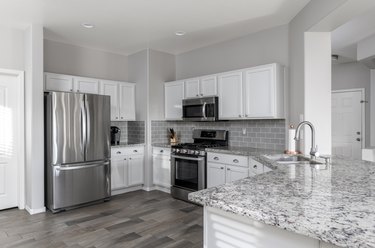 It's big, it's bulky and it's difficult to slide from its nook much less move from room to room. However, there is more to consider when moving a refrigerator than its size and weight. When moving a fridge, how long to wait to transport it can depend on the type of fridge, its condition and how long it will take to clean and prepare.
Problems with Moving a Fridge
The main issues with moving a refrigerator or freezer relate to water in the lines leaking and liquids in the motor possibly shifting around and causing problems with the refrigerator. The appliance needs to be cleaned and prepped thoroughly, and precautions should be put in place during transport so that the refrigerator will function properly in its new home.
Prepare to Move a Fridge
If you plan to move a refrigerator yourself, then take your time when loading the refrigerator and keep it standing upright to reduce the possibility of damage to the sealed system within the appliance. Life Storage suggests that you don't do the task alone and gather the following items to ensure a safe transport of the refrigerator, both for the fridge and for those grappling with the unwieldy appliance.
Measuring tape
Screwdriver or drill
Moving blankets
Rope or good, strong tape
An appliance dolly with straps
Cleaning and Shutting Down
Turn the refrigerator off and unplug it at least a few hours before you plan to move the appliance. This will ensure that all the mechanical parts have a chance to settle and cool down. Check the user manual for how to disconnect and shut down the refrigerator and follow those instructions to ensure you don't run into any issues.
Clean out the refrigerator with an antibacterial detergent and allow to dry before closing it up for transport. Remove all shelving, drawers and any other moveable parts for safety. Wrap the refrigerator in plastic wrap and/or moving blankets from top to bottom. This will protect the exterior finish of the refrigerator from dings and scrapes while in transport and make it easier to move in general.
Laying Down a Fridge
Sometimes it simply can't be avoided and the hulking appliance needs to be placed on its side or front. To do this properly, GE Appliances suggests that the refrigerator be wrapped securely and that the appliance be picked up from the side rather than the front to reduce damage when using a dolly or hand truck.
Top freezer models need to be put on the opposite side of where the hinges are located. Side-by-side refrigerators should be put down on the freezer side so that the doors are less likely to open. A compact refrigerator should always remain in an upright position due to the design of the drain. Water will run back into the appliance if it is placed on its side. If it has to be moved on its side, then allow it to drain and turn it off a few days in advance.