French doors on a refrigerator feature two doors that swing out from the center in opposite directions. A freezer drawer is usually installed at the bottom of the refrigerator unit, under the French doors. The width of each door on a French door refrigerator is half the size of the door on a traditional refrigerator. This means that the amount of space needed to open the doors for a French door model is less than the amount for a single-door refrigerator. So you can use a French door refrigerator closer to a perpendicular wall.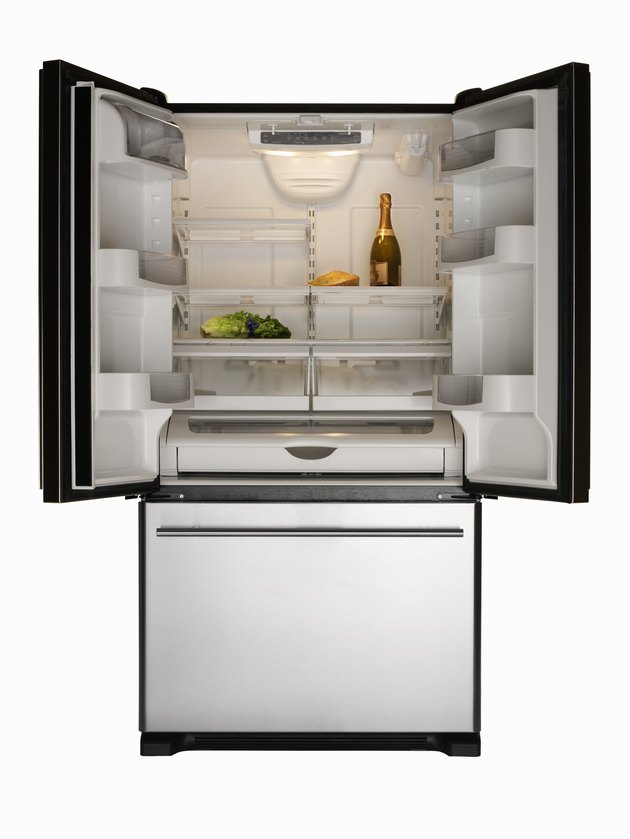 credit:
Ryan McVay/Photodisc/Getty Images
Step 1
Measure the space where the refrigerator is placed. There should be 1-inch of space on both sides, behind and on top of the refrigerator to allow for air flow to the condenser coils in the back, as recommended by GE appliances, a maker of French door refrigerators.
Step 2
Measure the distance between a perpendicular wall and the refrigerator.
Step 3
Push the refrigerator away from the perpendicular wall so there is at least 2 1/2 inches of space between the side of the refrigerator and the wall to allow for the French door to swing open, as another French door manufacturer, KitchenAid, suggests.