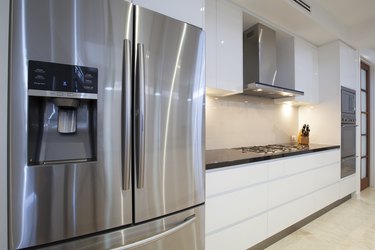 When you've moved into a new home, the odds are good that the appliances aren't old. If you're lucky, they've been kept well, and their age might deceive you. But it's a good idea to do some sleuthing so you know how old the fridge and other appliances are. Luckily, you usually won't need an appliance dater decoder ring to get to the bottom of this mystery.
Find the Label
For most fridges, it's not complicated to find the serial number label. It's on a metallic label that lists the manufacturer's name, the model number and the serial number, among other details. Depending on the manufacturer, the serial number itself will likely tell you the age of the fridge. But it's likely that you'll still need to get online to find out what the serial code means for your manufacturer.
So, say you have a GE fridge. The model number's great for ordering parts, but the serial number is what you want to look at. For the serial number TZ2773968, GE's website explains that the two letters at the start of the number indicate the month and year of manufacture.
"T" means the fridge was made in November, but the Z means it was manufactured in either 2012, 2000, 1988, or 1976. One would hope standing in front of the fridge should help you deduce whether it's from 2012 or 2000, but GE provides a means to contact them for further information. Other manufacturers have similar methods for sneaking the age into their serials, but it will be unique to their coding systems, so you'll have to do some web searching.
Kenmore Serial Number Decoder
It's trickiest deducing a Kenmore fridge age by serial number, because the line of fridges under the Kenmore moniker are contracted out to third parties, like Whirlpool, LG, Electrolux and Frigidaire. Finding a current list of manufacturers is difficult, but the first three numbers in a Kenmore serial number is the manufacturer's prefix. After that, the rest of the number exists as the manufacturer would do on their own appliances.
Whirlpool, for example, would be Kenmore fridges that have 106, 110, 198, 562 or 665 as some of the three-digit prefixes in the serial number, but there may be more than that. Unfortunately, many lists of the manufacturer prefixes listed online are out-of-date. If your fridge is older, though, you'll be able to do an online search to find a complete list of Kenmore manufacturer prefixes – of which there are at least a few dozen.
It's Good to Know
If you haven't figured out your appliance age online despite all your efforts, send an email or call the company to find out more. It's handy info to have, because knowing the age of your fridge can be a great way of helping to decide if you should call a repair technician when it goes wonky.
For what it's worth, the average life of a compact refrigerator is eight years, with the low end of life expectancy at four years and the high end at 12 years. For standard fridges, they live between 10 to 18 years, with the average being 14 years.
If you're thinking of a new fridge, don't forget that old fridges are an environmental hazard. Many regional utilities will pay you for your old fridge, for recycling purposes, so check what programs exist in your region.