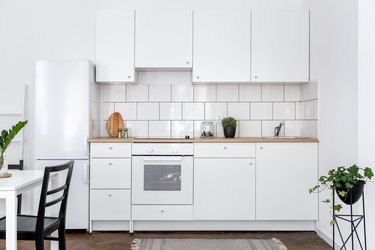 Most refrigerators stop working at some point during the winter months in an unheated garage, depending on climate and how well the garage is insulated. Most manufacturers do not recommend placing a refrigerator in temperatures below 50 degrees Fahrenheit. Doing so could cause the freezer portion to thaw frozen food, the refrigerator portion to freeze food or both. Additional precautions include allowing the fridge to adjust to room temperature before turning it on after it's delivered or moved.
Operating Temperature Range for Refrigerators
The most efficient room temperature for a refrigerator to operate in is between 68 and 71 degrees. Typical refrigerators have one thermometer located in the fresh-food section. Some refrigerators have two thermometers: one in the fresh-food section and another in the freezer section. This type of refrigerator has a wider temperature range and is better suited for locations with fluctuating temperatures. Check the owner's manual for information regarding your model. Manuals typically state the refrigerator only is to be used indoors.
There's Risk of Unwanted Thawing
When room temperature raises above the setting for the fresh-food section -- for example, 36 degrees — a typical refrigerator turns on and starts to cool. If the temperature in the unheated garage drops below 36 degrees, the refrigerator shuts down and stops cooling. This also shuts down the freezer section, causing it to warm up, thawing frozen food. Even if the refrigerator continues to operate without freezing or thawing as the outside temperature fluctuates, efficiency drops.
Refrigerators with two thermometers are less likely to have issues with thawing, freezing and inefficiency — but they're not immune to them. Refrigerators without a freezer section shut off and the contents will freeze if it gets cold enough outside. If your fridge is plumbed for water, the water lines or filter may freeze and burst.
Heater-Equipped Refrigerators
Soft-drink machines that you see outside in freezing weather are nothing more than refrigerators. This type of fridge has internal heaters that keep the appliance at a controlled temperature. Some refrigerators may be purchased with this feature, specifically designed for unheated spaces such as a garage. They have larger compressors, increased refrigerant, extra insulation and built-in heaters.
Some manufactures have made available an optional heater-coil kit that can be added to an existing fridge. This allows for the operation of the fridge in temperatures as low as 34 degrees F. Check with the manufacturer for the availability of this feature for your model.
Consider the Cost
Unless you're using it regularly, it might not be worth keeping a refrigerator in the garage. It might make better sense to keep the second one in your house, in the basement or pantry, or perhaps even have two fridges in the kitchen.
A more important point to consider is the cost of keeping a second fridge running year-round in your garage. Your fridge will have to work extra-hard in summer and winter to keep your food at the right temperature, and this consumes more power. If your fridge was an older model to begin with, as many garage fridges are, it's probably a lot less efficient than a more modern model.
There's a "Flip Your Fridge" Calculator on the Energy Star website that can help you estimate how much you'd save by simply getting rid of the second fridge. You can either bank those savings, or put them toward a newer, more efficient fridge. The payback time might be surprisingly short, depending on your local electricity rates.