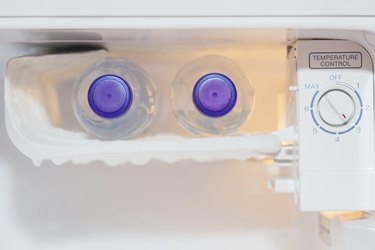 Mini refrigerators, also known as compact refrigerators, vary in size from 1.7 cubic feet up to 4.5 cubic feet. The smallest cube-shaped mini fridge measures 17 inches wide, 18 7/8 inches deep and 20 1/2 inches tall. A larger 4.5 cubic foot model with a separate freezer measures around 19 inches wide, 20 inches deep and 43 inches tall.
Energy Issues
While the smallest mini fridge keeps your sodas and snacks cold, the cost of running it may be nearly as much as a full-size refrigerator. A 1.7 cubic foot refrigerator uses 30 kWh per month, according to Silicon Valley Power. Meanwhile, the Energy Star rating on a 4.5 cubic foot refrigerator is 235 kWh per year, or nearly 20 kWh per month. When searching for a new mini refrigerator, look for the Energy Star rating to ensure that you're saving energy and money while keeping your food cold.
---
Ruth de Jauregui is the author of 50 Fabulous Tomatoes for Your Garden. She writes numerous home and garden articles for a variety of online publications. She got her start as a book and cover designer in San Francisco for William (Bill) Yenne at American Graphic Systems. In addition to designing books, she wrote her first book, Ghost Towns. With several nonfiction books under her belt, de Jauregui recently published her first novel, Bitter.