Shining clean black or stainless steel appliances with black trim provide an upscale feel to kitchen decor. Keeping these appliances clean is a challenge. The black plastic requires frequent cleaning and easily shows fingerprints and water marks. The ice and water dispenser located in the door is a specific challenge. The buttons and openings on the dispenser are frequently used and susceptible to buildup from hard water stains. You can keep your black plastic water dispenser shining like new with routine cleaning.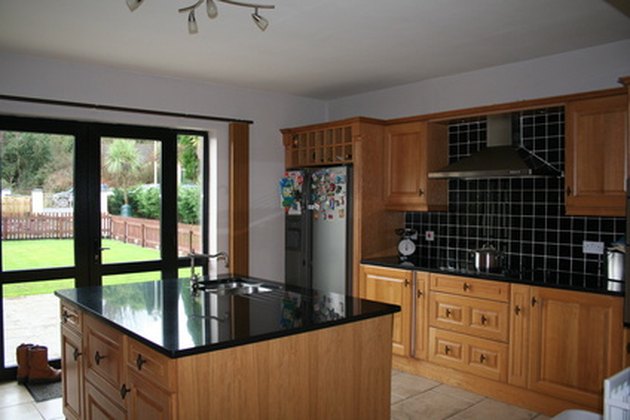 Step 1
Wipe the dispenser drip area dry with a clean towel. Keep this area dry to prevent water from spilling over and running down the front of the refrigerator and onto the floor. Standing water can also cause mineral deposits to build up on the drip area.
Step 2
Remove any buildup in the drip tray by filling it with vinegar and allowing it to soak. Wash away the vinegar and buildup with fresh water and dry the drip tray with a clean towel.
Step 3
Mix 1 tbsp. of baking soda with 1 liter of warm water. Use this baking soda solution and a clean towel to wash the dispenser cradle and surround.
Step 4
Rinse the dispenser cradle and surround well with warm water on a clean towel. Wipe all surfaces dry with a clean towel.