Both General Electric and Frigidaire have been in the refrigerator business for nearly a century, and both companies have helped to develop the basic refrigerator design that has been used in homes around the world since the early 1900s. In the 21st century, both manufacturers have equipped their refrigerators with technologically advanced features, although top-of-the-line GE refrigerators offer a bit more in terms of innovation and luxury than those of Frigidaire.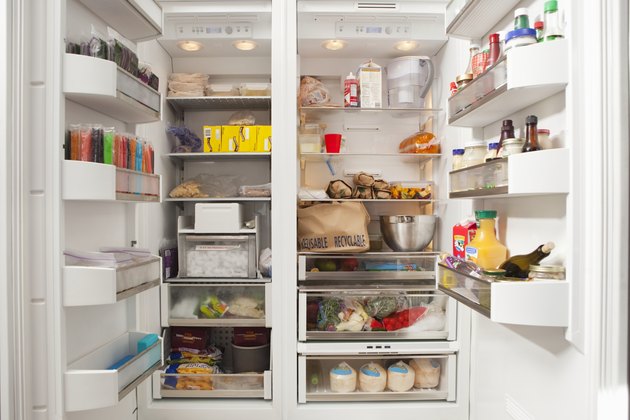 credit:
moodboard/moodboard/Getty Images
The Frigidaire brand began its life with the Guardian Frigerator Company, an independent manufacturer that built its first electric refrigerator in 1916. Guardian was bought by General Motors in 1918, and GM produced Frigidaire refrigerators until 1979. The Swedish company Electrolux acquired Frigidaire in 1986, and it continues to oversee the manufacture of Frigidaire refrigerators. General Electric began producing home appliances early in the 20th century, and the company built its first electric refrigerator in 1917.
Both manufacturers offer a full range of refrigerator model types, including top- and bottom-freezer models, side-by-side models, French-door models, compact refrigerators and wine coolers. In all, as of May 2014, the GE refrigerator product line includes 173 models ranging from large stainless-steel "Profile Series" refrigerators, costing more than $7,000, to basic top-freezer models for less than $500. Frigidaire offers 146 model choices, but its high-end models have suggested retail prices of less than half that of the most expensive GE refrigerators.
The basic functional design of GE and Frigidaire refrigerators, with a hermetically sealed interior cooled by an electrically powered condenser unit, hasn't changed much in the last century. The latest features offered by both manufacturers are focused largely on interior organization and water dispensers. Some high-end GE refrigerators include hot-water dispensers and dispensers that automatically dispense a pre-determined amount of water. Frigidaire models don't offer as many luxury features, but some high-end models do include water filtration systems.
In its 2013 review of the best refrigerator models, The Sweet Home chose the 11.6-cubic-foot Frigidaire FGUS2642LF as its favorite 36-inch-wide refrigerator, noting that the similar GE PSHS6PGSZZ offered less usable space but cost $400 more than the Frigidaire. In its 2011 review of the best French-door refrigerators, "Good Housekeeping" picked two GE models, the 25.8-cubic-foot PFSS6PK and the 25.9-cubic-foot GFSS6KKYSS, among its top 12; in the 2014 GE product line, the 26.7-cubic-foot PFE27KSDSS is closest to these two models in capacity and price.