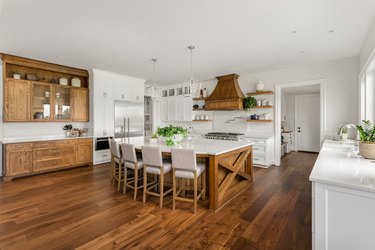 Your refrigerator is one of the most important appliances in your home, and it can affect everything from the aesthetics of your kitchen to the freshness of your food to your energy bill. GE and Frigidaire are two of the top appliance brands on the market today and are a good place to start when looking to buy your next refrigerator. Choosing between them can be difficult, depending on your needs.
Things to Consider When Shopping
When shopping for a major appliance, it's important to consider performance, internal volume, external size or physical footprint, energy footprint, aesthetics and reliability or how often these brands and models need to be serviced on average. The basic design of refrigerators used in homes remains largely the same, with an electrical condenser unit cooling one or more hermetically sealed interior chambers. Most innovation in refrigerators has been in energy efficiency, interior organization, ice and water dispensers and smart features like internet connectivity.
Refrigeration History
Both companies have been making refrigerators for about a century, with Guardian Frigerator Company ⁠— what would later become Frigidaire ⁠— building its first electric refrigerator in 1917, and General Electric creating its first model in 1925. Both Frigidaire and GE helped develop the basic refrigerator design that's in use in homes around the world to this day, and modern models from both manufacturers offer a variety of designs and features.
GE and Frigidaire offer several refrigerator model types, including the standard top-freezer style along with bottom-freezer, side-by-side and French-door models as well as wine coolers and compact refrigerators. In all, both companies offer over 100 models at any given time, with a variety of configurations and features.
Frigidaire Vs. GE Refrigerators
Overall, GE refrigerators tend to be a little more stylish and come with more features, while Frigidaire models offer many similar internal configurations at a much lower cost. The high-end Frigidaire models generally cost less than half the recommended retail price of the stainless steel "Profile Series" GE refrigerators, which can top $7,000.
Frigidaire refrigerators tend to be efficient, with a smaller energy footprint, while GE models tend to consume more electricity and need more frequent parts replacement and other repairs to support their extra features. While many consumers enjoy the extra features of GE refrigerators, the more basic nature of Frigidaire models often acts in its favor for those who just want to keep their food fresh. With a solid grasp of the basics of fridge design and few unnecessary moving parts, Frigidaire models often require less maintenance and lead to additional savings in this arena as well. That said, Frigidaire models can suffer in aesthetics, while GE offers more options in colors, accents and styling.
Model-by-Model Comparisons
However, the best comparisons are on a model-by-model or at least style-by-style basis. In this arena, top-freezer Frigidaire models shine: simple, reliable and equipped with the same spill-proof shelves, crisper and pantry drawers and optional ice maker add-on as GE models, but for a lower price and higher reliability rating. Good Housekeeping rated the Frigidaire FGTR2037TF the best top-freezer refrigerator for 2020.
When it come to the most reliable French door refrigerators, however, GE takes over, with higher ratings, more features and more style options. The GE GSS25GSHSS got a nod from Wirecutter, while the PFE28KMKES French door model and CWE23SP4MW2 French door counter-depth models were recognized by Good Housekeeping as best overall refrigerator and best counter-depth refrigerator, respectively.
Other Brands and Considerations
Of course, GE and Frigidaire aren't alone. Many kitchen aficionados today are looking to Whirlpool, KitchenAid, LG and Samsung for the ultimate in reliability and style. Whirlpool in particular has been attracting attention for its French door models, with the Whirlpool WRF535SMHZ winning Wirecutter's top pick as the most popular size and style right now and WRS586FIEM getting Good Housekeeping's pick for best side-by-side.
Whether you go with GE, Frigidaire or one of these other brands, be sure to think about your actual food consumption habits and your water and ice needs. In addition, consider your budget not just for the initial purchase, but for predicted repairs, upkeep and parts replacement as well as the impact on your energy bill. The best refrigerator for you will balance all your needs, and with so many brands and models out there, the perfect pick is likely waiting for you.