You can build walk-in freezer units in a range of different sizes, with different materials and to suit varied purposes. It is possible to create a small walk-in freezer in one section of a room, or develop an industrial-scale freezer that spans a much larger space, such as a warehouse. A large-scale freezer with plenty of room for walking around is required, for example, in a food-development company, but it costs significantly more to create.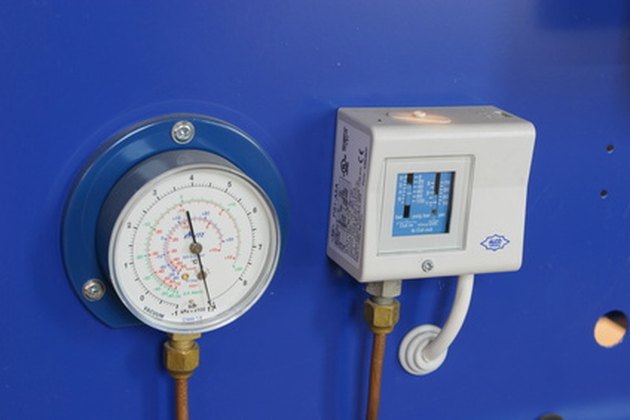 Step 1
Select the size of freezer you need for your individual requirements and purchase a walk-in freezer kit that can create such a freezer size. Make your own from scratch using insulation, sheet metal and foam. You will need to be skilled in cutting sheet metal to successfully complete the latter option.
Step 2
Choose and purchase insulation material and a metal skin. Use extruded polystyrene (high moisture resistance) and polyurethane in large freezers as insulation materials, according to US Cooler. If you are looking to build a small-scale, in-room freezer, choose a skin that is easy to clean, robust and solid, such as G90 galvanized (expensive), aluminum (resistant to corrosion), galvalume (steel-coated aluminum), painted G90 (several color choices) or stainless steel (very expensive, but strong).
Step 3
Create the walls and roof of the freezer by cutting sets of sheet metal, inserting the insulation materials and injecting foam to clamp the two components together. A kit will already have the walls sandwiched together.
Step 4
Purchase and install a refrigeration system that is both economical and energy-efficient. Select either a remote-control system, a pre-assembled remote system, a standard mountable system or a location-specific system (such as mount-top, saddle-mount, penthouse or roll-up).
Step 5
Decide whether you need a floor to the unit, and install one if you do. Sweep the mounting surface clean, lay a sheet of waterproof sheathing down to create a moisture barrier and place the flooring on top. Secure the walls and floor with tongue and groove connectors, bolts or screws (and a screw driver), depending on the kit, or the type of joint you prefer to use.
Step 6
Fit a door to the freezer. Take into account its position in the room and the side you wish to enter it from. Kits have ready-made doors that attach to existing hinges, but you can make your own using hardware store hinges. Make sure the door insulates, too. Caulk all the static joints.