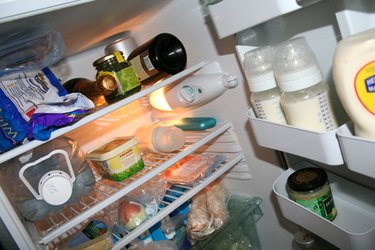 GE refrigerators that don't cool properly will allow food to spoil. Causes of refrigerators not cooling can be related to power supply, controls, the door not closing properly or even simply the weather being too warm and the refrigerator being unable to handle the ambient heat. Problems with a GE refrigerator not cooling can be troubleshot with a series of steps.
Step 1
Push the refrigerator's plug fully into the household outlet. Unplug the refrigerator and plug it back in again. The fridge might be in showroom mode.
Step 2
Close the door and verify that it sits on its seal properly. The door should close tight and the door gasket on the hinge side shouldn't fold over or stick. Apply a thin layer of petroleum jelly with your finger to the face of the gasket.
Step 3
Verify that the door isn't hitting a sliding rack, bin or drawer. There must not be any contact between the door and the innards of the GE refrigerator because that can hinder the door closure. Try moving the door bins up a notch.
Step 4
Open the door less often in warm climates, or on particularly hot days.
Step 5
Set the controls to a lower temperature setting. GE recommends "5" as the normal running temperature, but you could try changing that. Try "6" and allow the refrigerator to stabilize for 24 hours before decreasing it further.
Step 6
Allow 24 hours to pass after placing a large amount of food in the GE refrigerator. While the fridge is designed to work optimally when it's two-thirds full, placing a large amount of warm food in at one time can cause the temperature to rise.