Jenn-Air refrigerators are effective at keeping your food and drinks cold and fresh, but may, on occasion, not cool properly. Many problems with the refrigerators are common and do not need the assistance of a service technician. Troubleshoot and fix your refrigerator to return it to normal operating conditions.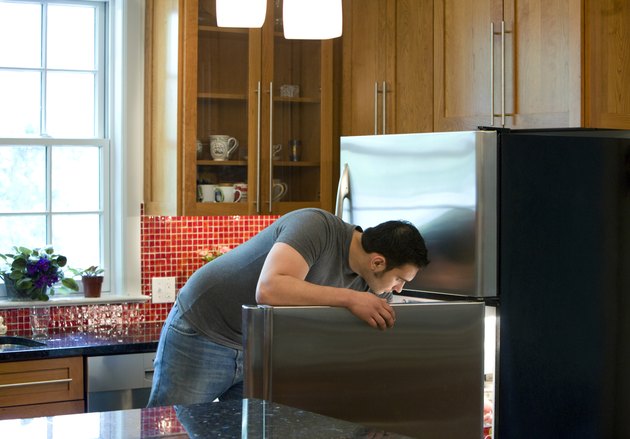 credit:
David Sacks/Lifesize/Getty Images
When your refrigerator isn't cooling your food and drink items, first check that the power cord is plugged into a working electrical outlet. If you recently plugged in the refrigerator for the first time, it will take approximately 8 to 12 hours before the refrigerator is cool. Even though the refrigerator is cool in this time frame, you shouldn't place the refrigerator to a colder setting until the initial cool down stage, which takes 24 hours.
If the refrigerator has been running for 24 hours, you can adjust the refrigerator to a lower setting. The control panel is located in upper portion of the refrigerator compartment. Press the up arrow button to set the refrigerator to a higher setting, which will decrease the temperature of the refrigerator compartment.
If the temperature control is correctly set but the refrigerator compartment still does not cool down, check the refrigerator door. First, remove any food or drink items that are preventing the door from fully closing. In addition, make sure all of the drawers are fully closed, as they may keep the door from closing.
Next, clean off the gasket with warm, soapy water and a sponge. Rinse the soapy water off of the gasket. If the gasket is not clean, it will not create a seal with the refrigerator.
Another reason the refrigerator is not cooling down may be because the refrigerator door is opened too frequently or left open for a long period of time. Pay attention to your use of the door and try to shorten the amount of time the door is opened.
Your Jenn-Air refrigerator might not cool down for other reasons. If you have recently added food to the refrigerator, the temperature of the food may have an effect on the temperature of the refrigerator. The temperature in the refrigerator will adjust after the food sits in the unit for an hour or more.
You may have obstructed the air flow on the inside of the refrigerator with the placement of your food. The rear air grille is located under the crisper drawers. Move any food items away from the rear air grille to increase the air flow through the refrigerator.