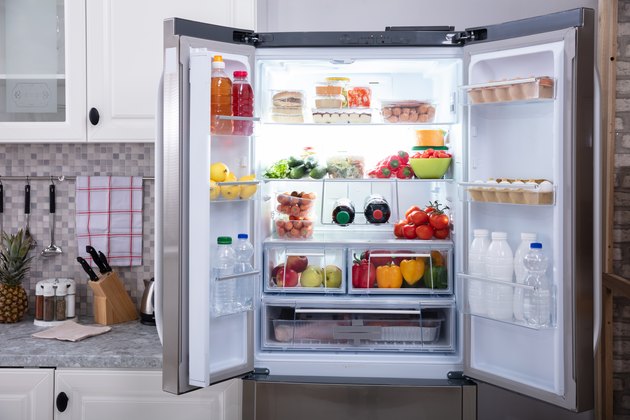 For more than three decades, major appliance manufacturers have created ovens, refrigerators and other hardworking kitchen appliances with a Sabbath mode. It allows Orthodox Jews to use and interact with the appliances in their kitchens during this holy period.
The demand for appliances that can be placed on hold during this sacred time has increased. There are now many choices, from Samsung Sabbath mode ovens to refrigerators.
Tip
Plan to put appliances in Sabbath mode early and allow 30 minutes before interacting with ovens on Sabbath mode.
What is Sabbath Mode?
Sabbath mode was created so that Orthodox Jews can avoid the lights and sounds that come with using refrigerators and allows them to use the oven without having to interact with the electrical system to turn it on. The Sabbath requires that no fans, lights, icons, digits, displays or tones are activated. This can be problematic with all the pings and display icon pop-ups that occur when using today's appliances.
When an appliance is placed in Sabbath mode, it can be used without having to be turned on or off, which is prohibited during the holy time. For instance, the Sabbath mode in a refrigerator doesn't stop the appliance from working, but it does keep the interior light from turning on.
History of Sabbath Mode
A Sabbath mode refrigerator was first created and patented by Whirlpool in 1988, according to The Spoon. Other manufacturers followed, and by 1997, appliances with Sabbath mode soon became available for ovens and other household helpers. Today, there's a wide range of appliances from a bevy of major manufacturers to choose from.
Sabbath Mode for the Refrigerator
The Sabbath mode for the refrigerator is probably the most important of all the appliances. It allows the appliance to continue to keep perishable food cold but deactivates lights, icons, tones, alarms, fans and digits that pop up on the display on the outside of the refrigerator. The ice and cold water systems will temporarily be turned off as well.
When the refrigerator's doors are opened, no lights will come on and there will be no whirs of fans or other sounds from the interior. If the doors are left slightly ajar, no pings will alert anyone close by to give them a nudge. Open the refrigerator doors as little as possible and make sure they're tightly closed as a precaution.
Samsung Sabbath Mode for the Oven
Turning an oven on and off during Sabbath isn't allowed. However, in Sabbath mode, the oven continues to heat throughout the period of rest. When not in Sabbath mode, an oven will automatically shut off after 12 hours.
To set the Samsung Sabbath mode on an oven, touch the Chef Bake button and put the appliance on the desired temperature for any baking you expect to do over the holy period. Touch the Start Set button and hold the Chef Bake and Touch To Wake Up buttons at the same time for about three seconds or until SAb shows up on the oven's display. To deactivate Sabbath mode, press both of those buttons again until the SAb disappears from the display.
Samsung recommends that the Sabbath mode only be used for baking and that the cooktop not be operated while the appliance is in Sabbath mode. After activating Sabbath mode, leave the oven door closed for at least 30 minutes.
---
Kimberley McGee is an award-winning journalist with 20+ years of experience writing for a variety of clients, including The New York Times, Las Vegas Review-Journal Home section and other national publications. As a professional writer she has researched, interviewed sources and written about home improvement, interior design and related business trends. She earned a B.A. in Journalism from the University of Nevada, Las Vegas. Her full bio and clips can be viewed at www.vegaswriter.com.
View Work