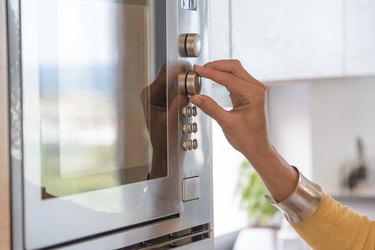 NuWave Ovens are touted as being a healthier alternative to traditional cooking, particularly in a microwave oven. They retain moisture and help eliminate excess fat, thanks to a design that encourages dripping. Though it is very popular and NuWave Oven reviews suggest it is a well-made product, you may experience difficulties with it from time to time. If your NuWave Oven stops working properly or is not heating, there are some basic troubleshooting tactics you can try.
Important Safety Considerations
Before attempting to do any troubleshooting with your NuWave Oven, be sure that it is unplugged. Do not troubleshoot your oven while it is hot or while there is grease or food inside the oven. This could be dangerous or lead to burns.
Though a NuWave Oven is not very large, it may be heavy for certain users. If you plan to move your appliance before troubleshooting it, ask for help if you do not feel you can safely lift it.
Checking Power to Your Oven
If your NuWave Oven is not heating, the first thing to do is to check the power to the unit. It's possible that the outlet you have the oven plugged into is not working at all. If it is providing some power, it might not be providing enough.
Plug another appliance into the outlet. If it operates as normal, the issue is not related to the outlet. If it does not, there could be an issue with the circuit breaker. The breaker might have tripped, or it could be that the breaker has gone bad.
It is also possible for circuits to provide some but not all of the power they should, which might inhibit the machine's ability to work properly.
Other NuWave Oven Problems
It is possible that your oven's temperature controls are set incorrectly. To check this, press the "Power Level" button on the front of the appliance. You can then press "0" to reset to the highest cooking level. Keep a close eye on the next meal you prepare in your oven to be sure these updated settings are the way you want them.
Refer to your owner's manual to verify that you are using the correct cooking settings for the meals you are trying to prepare. According to Delishably, the appliance uses infrared, convection and conduction cooking methods simultaneously to enable a superior experience.
However, it is also able to roast, broil, grill, barbecue, bake, steam, dehydrate and air-fry your food. This means there are a number of different settings, all of which must be adjusted if you are cooking straight from frozen (though cooking food that is still frozen is encouraged by NuWave). If you have been using the wrong setting, you might erroneously think that your appliance is not heating.
NuWave Oven Parts
If you are unable to successfully troubleshoot your NuWave Oven and get it working once again, you may need to replace parts. You should be able to order parts directly from the manufacturer. Contact them for further assistance.
If you require help with putting the replacement parts in, NuWave may be able to refer you to a certified technician. Alternatively, you might be able to send your oven back to them for on-site repairs.
---
Danielle Smyth is a writer and content marketer from upstate New York. She holds a Master of Science in Publishing from Pace University. She owns her own content marketing agency, Wordsmyth Creative Content Marketing, and she enjoys writing home and DIY articles and blogs for clients in a variety of related industries. She also runs her own lifestyle blog, Sweet Frivolity.
View Work