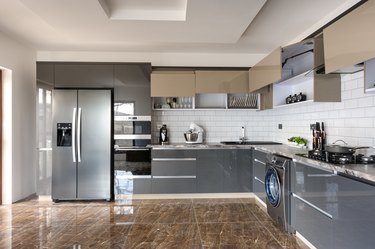 If you have a Kenmore refrigerator, you likely appreciate its sleek appearance, high-tech features and high-quality display. However, any good appliance can experience issues over time. If you are having trouble with your Kenmore Elite refrigerator (or a unit in another series in the manufacturer's lineup), don't worry. Troubleshooting the display is a fairly straightforward process.
Safety Considerations Before Getting Started
Before you begin to troubleshoot your refrigerator, be sure that it is powered on. However, do not manipulate any controls on the back of the refrigerator or remove any parts until you have unplugged the unit or turned it off at the circuit breaker.
In addition, do not try to move the refrigerator by yourself. These appliances can be extremely heavy, even if they are on wheels. Use a partner to help you move the refrigerator. Take extra care to be sure no children are pets are nearby when you do so.
Troubleshooting a Refrigerator Display
Without the display on your refrigerator working properly, you may be unable to access the special features you specifically chose the unit for. Furthermore, the display offers you important information like the temperature of the refrigerator and freezer, so it's essential that you are able to get it working.
If the display is blank or frozen, you should first try turning the unit off and on again. For this, you will need to get your helper and pull the refrigerator away from the wall. Then, unplug the appliance. Wait sixty seconds and then try to plug it back in — did the display refresh?
If the display is still not working, you can try pressing the "LOCK" button on the display. Hold this button down for three seconds. This could make the display turn back on.
Further Display Troubleshooting Advice
With a display that won't easily turn back on, chances are good there is a problem with the circuitry for that part specifically. You can remove the display panel board, provided the refrigerator is unplugged. Check to see if any wires are loose or disconnected. If not, or if you are not familiar enough with electrical wiring to feel comfortable with this step, you should contact a professional.
It is possible to purchase a replacement display board panel for your Kenmore refrigerator, and the manufacturer can walk you through which one you will need based on the specific refrigerator model you have. They can also direct you to a certified repairperson to install the new display for you. Since wiring is involved, it's best if you leave this work to a pro.
While you wait for your display to be fixed, regularly check the temperature of your refrigerator and freezer with an appliance thermometer. Since you won't have access to the display, it's important to verify that the unit is keeping your food at a proper temperature.
Kenmore Refrigerator Repair Manual
If your brand new Kenmore refrigerator is not cooling, it's likely the problem is more complicated than any quick fixes to the display. You should refer to your manual for information. If the problem seems more complicated than something you are comfortable fixing on your own, contact the manufacturer or a certified repair technician for assistance.