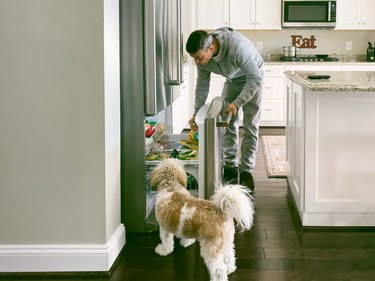 When the first freestanding freezers for home use were made, they were boxy chest styles with hinged lids that opened from the top. Based on their shape and the fact you had to reach deep inside to retrieve food, they earned the moniker of deep freezers. Today, the term refers to both chest and upright freestanding freezers. Thus, the difference between a freezer and deep freezer is more related to style than to deep freezer temperature, at this time in history.
Chest Freezer Description
Most chest freezers are rectangular-shaped, although some compact models are cube-shaped. According to CNET, size capacities for chest freezers range between 5 and 18 cubic feet. They usually have drawers that move back and forth on rails, and some styles include shelves and baskets that can be configured to hold different sizes and shapes of packaged food.
Upright Freezer Features
Upright freezers look a lot like conventional refrigerators but with only one door that can be installed to open from either the right or left side. They come in sizes that hold between 10 and 21 cubic feet of food. Stationary shelves and compartments on the doors hold small items, and the interior shelves are adjustable to accommodate large or tall items such as wild game, turkeys or layered desserts. Some upright freezers have drawers near the bottom for easy access to individually portioned foods such as frozen entrees and ice cream novelties.
Frost-Free Freezers
According to ABT.com, a frost-free freezer routinely defrosts itself every 24 hours, so there is no frost or ice buildup. The temperature does not significantly fluctuate, so the food quality is not compromised by defrosting and refreezing. Upright freezers are widely available in frost-free models, but frost-free chest types are harder to find. Their upkeep is easy, as they only require occasional wiping of the shelves and compartments.
Manual Defrost Types
Both upright and chest freezers are available in manual defrost styles. This freezer type requires periodic emptying and disconnection from power to let the ice melt enough to be removed — a chore that often is messy and time-consuming. This style uses approximately 40 percent less energy than frost-free freezers. It may be difficult to find a manual defrost freezer that is new or full-size, as these have fallen out of style over time, but plenty are available as used models.
Pros and Cons
A chest freezer is the less-expensive option, uses a bit less energy, freezes foods more solidly and maintains their coldness longer during power outages than uprights. However, they take up more floor space than uprights, food at the bottom is hard to reach, and their contents cannot be easily accessed by small children, very short adults or people in wheelchairs. Viewing food inventories is easier in upright freezers, and uprights more easily fit into kitchen-appliance layouts and designs.
You should also consider operating costs of various freezers. A chest freezer may be a better choice, since it is more energy-efficient. Newer freezers, especially those that are attached to refrigerators, use more energy for both routine cooling and defrosting, as well as for fancier electronic features and ice-making capabilities.