General Electric convection ovens come with a variety of features, including "Time Cook," "Warming," "Sensor" and "Convection Baking/Roasting." The convection setting distributes the heat evenly inside the oven to provide optimal results. The settings are easily configured on the oven's electronic touchpad. Should your oven's touchpad run into problems, most of them are easy to fix.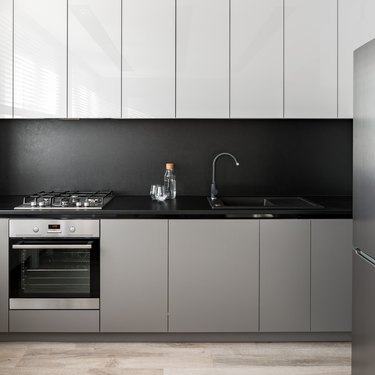 Touchpad Lights are Off
If the oven's touchpad is off, then the oven is likely not getting any power. Make sure it is connected to a working electrical outlet.
Touchpad Is Locked
If the touchpad is on but the sign "Control Locked" appears on the display, that means that the touchpad has been locked. All you need to do in this case is simply press and hold "Clear/Off" for three seconds and that should unlock it.
Touchpad Lights On But Oven Not Working
If the lights on the touchpad of your oven are working but the oven still does not start, there may be several reasons for it.
First, check that the door of the oven is closed securely. When the door is only partially closed, your oven will not begin to operate.
Did you remember to press the "Start" button after entering your cooking settings? Remember, your oven will not actually start operating until you explicitly tell it to. Similarly, the oven will not start if you have activated the "Time Cook" feature but failed to enter the cooking time. If you're using the "Time Cook" feature, make sure to set the desired cooking time after pressing "Time Cook."
If you pressed "Clear/Off" accidentally, simply enter the desired settings and press "Start" again.
Are you using the "Auto Defrost" or "Fast Defrost" option and forgot to enter the food weight? Your oven will not start defrosting if you don't set the food weight.
Perhaps you wanted to use "Auto Cook: but after pressing the button, forgot to enter the food type in the settings? Don't forget to choose your food type when using "Auto Cook," otherwise your oven will not operate.
"Sensor Error" Sign on the Display
One possible reason for an error message is that you were using the "Sensor" feature but opened the oven door before the sensor could detect steam. To avoid this, don't open the oven door before the sensor identifies steam. You will know when that happens because the display will show time counting down.
Another possible reason for this error message is that the maximum time has elapsed and the sensor was not able to detect steam during that time. To remedy this problem, you can use the "Time Cook" feature of your oven to heat for more time.