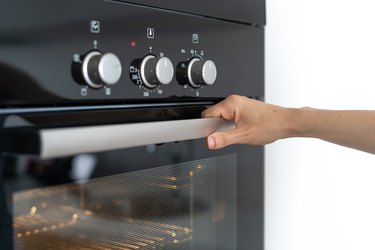 Like a computer, the electronic control panel of a GE built-in oven can get corrupted and cause all kinds of malfunctions and slow-downs. It could be why your GE electric range oven and clock are not working or why you keep getting an error code that shuts down the oven altogether. Error codes are usually accurate, so if one shows up, you should always look up its meaning in your owner's manual and investigate. Before you look up the error code, consider resetting the entire control panel. It's easy.
GE Profile Oven Control Panel Reset
The Profile line is just one of several appliance lines that GE offers, but when it comes to resetting the control panel, the procedure is the same as it is for any other GE oven. The entire process is described on the GE Appliances website. Just as you reset the processor in your laptop by switching it off and on to reboot the operating system, so you reset A GE oven control panel by shutting it off and restarting it.
The easiest way to do this is to unplug the appliance. Because the plug is built-in, you probably can't access it. In that case, the next best option is to switch off the breaker in the main panel that controls the oven receptacle. GE recommends leaving this off for at least one minute before switching it back on. You should verify that the electronic clock on the stove goes off to confirm that the power to the stove is actually off.
The breaker for the oven is a double one, meaning that it has two switches joined by a bonding plate. It doesn't matter which of the breakers you turn off, because the other one will go off automatically. The same is true when you switch the breaker back on.
Reset After F9 Error Code
If your house experiences a sudden power surge from a source, such as a nearby lightning strike, the control panel may display an F9 or an F9 E0 error code. This may also happen when power is restored after an outage or if you press any keys on the panel during the 10-second power-up sequence after power is restored.
You can usually make this error message disappear by doing a control panel reset, which is to turn off the breaker, leave it off for one minute and turn it back on. Be sure to avoid pressing any buttons until after the 10-second power-up sequence has completed.
GE Oven Won't Turn On
If you're having problems with your GE oven, you may be able to restore functionality without resorting to a control panel reset. Some things to look for include:
The control panel is locked. Some ovens have a Control Lock feature as a safeguard for children. If this feature is engaged, the controls won't respond until you disengage the feature by pressing the Control Lock button and holding it for three seconds.
Delay Start is engaged. Someone may have programmed the oven to come on at a certain time, and you won't be able to use the oven until you override this. Consult your owner's manual for the specific procedure that applies to your model.
The breaker may have tripped. If you aren't getting any power at all, not even to the clock, the breaker controlling the oven circuit may have tripped. Try resetting it, and if it trips again, call an appliance professional to investigate.
---
Chris Deziel is a contractor, builder and general fix-it pro who has been active in the construction trades for 40 years. He has degrees in science and humanities and years of teaching experience. An avid craftsman and musician, Deziel began writing on home improvement topics in 2010. He worked as an expert consultant with eHow Now and Pro Referral -- a Home Depot site. A DIYer by nature, Deziel regularly shares tips and tricks for a better home and garden at Hunker and Family Handyman.